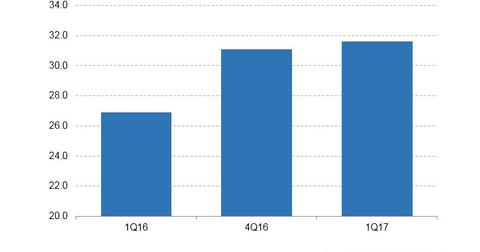 Why Groupon Sees Opportunity amid Current Weaknesses
By Neha Gupta

Updated
Groupon's chief worldview
Rich Williams, the CEO of Groupon (GRPN), believes that the company isn't getting the maximum value out of its customers. He also sees Groupon's limited penetration in North America, its most important market, as an advantage rather than a weakness.
Groupon has pulled out of several international markets to focus on strengthening and growing its business in North America.
Article continues below advertisement
Limited North America penetration
Speaking at a J.P. Morgan industry conference, Williams said Groupon's penetration in North America is in the single digits. But he hinted that Groupon has the potential to substantially grow its North American market share. While Groupon counts about 32.0 million active users in North America, Williams says the company's addressable market in North America is more than 200 million customers.
As such, Groupon's management sees low penetration in North America as a sign of the company's massive growth potential in its most important market. Groupon finished 1Q17 with 48.3 million active users worldwide. The above chart shows the company's North American user base.
Squeezing the most value out of shoppers
On the issuing of deriving the most maximum value from customers, Groupon contrasts its transactions with market figures. For example, Groupon says its average customer transacts 4.5 or five times a year, yet the industry average transaction per customer in some product categories is up to 200 times a year.
Those figures suggest Groupon could squeeze more value from shoppers by encouraging them to transact more frequently on its platform. Eliminating transaction frictions, such as doing away with paper vouchers, is part of the efforts Groupon's making to increase the value of its shoppers.
For investors, the focus is how these changes can help Groupon's competition against rivals such as Yelp (YELP), Quotient Technology (QUOT), Overstock.com (OSTK), and Amazon (AMZN).