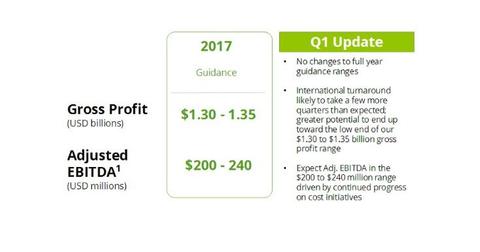 Why Groupon Is Stepping Up Its Marketing Efforts
By Neha Gupta

Jul. 7 2017, Updated 8:07 a.m. ET
Stepping up marketing efforts
Groupon (GRPN) is going to be more active in promoting its platform in the current quarter, 2Q17. As such, 2Q17 marketing spending is forecast to surge from 1Q17 levels.
The company expects its 2Q17 marketing budget to be in the range of $15.0 million–$16.0 million. Groupon's marketing spending in 2016 rose ~43.0%, and the 1Q17 marketing spending was largely flat from a year earlier. This performance is important, as the company also fights off competition from the likes of Yelp (YELP), Amazon (AMZN), eBay (EBAY), and Walmart (WMT).
A large portion of Groupon's 2Q17 marketing budget is slated to go to offline campaigns, video, and creating awareness of the company's new storyline.
Article continues below advertisement
Promoting the daily habits narrative
It turns out tens of millions of people still perceive Groupon to be a daily deals provider when, in fact, the company has shifted its model to "daily habits." As such, Groupon is investing to increase awareness of its new storyline. There's a lot of work to do on that front, considering that close to 50.0 million people still know Groupon through its former operations.
Groupon's CEO, Rich Williams, likened this shift in the storyline while building the brand and acquiring customers to changing engines while the jet is running. He spoke at a J.P. Morgan industry conference last month.
Attention remains on ROI
Despite stepping up marketing spending to build the brand, acquire more customers, and promote the daily habits storyline, Williams said maintaining a high ROI (return on investment) remains a priority for his management team.
Groupon is guiding for a 2017 gross profit in the range of $1.3 billion–$1.4 billion.