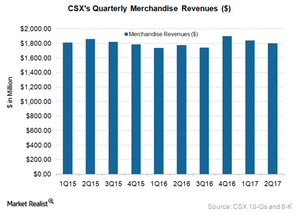 Why CSX's Merchandise Segment Revenues Slid in 2Q17
By Samuel Prince

Jul. 21 2017, Updated 7:45 a.m. ET
CSX's Merchandise segment
After reviewing CSX's (CSX) Intermodal segment's 2Q17 revenues, we'll look into its Merchandise segment. The company's Merchandise segment revenues expanded 1% to $1.8 billion in 2Q17 compared with $1.7 billion in the same period last year. CSX's Merchandise revenues fell 61% in 2Q17 from 66% in 2Q16.
As the above graph shows, CSX's Merchandise revenues haven't changed much. What matters is the percentage of such revenues in the company's total operating revenues. For CSX, coal's gain is merchandise's loss as a percentage of overall revenues.
Article continues below advertisement
Merchandise volumes in 2Q17
In the reported quarter, CSX's Merchandise segment volume was 694,000 units, down 2% from 706,000 units in 2Q16. Except for fertilizers, the volumes of all the other commodity groups fell in 2Q17. While fertilizers' volumes rose 8%, metals and equipment saw the biggest volume drop of 6%. This group was followed by automobile and parts where the slump was 4%. In the housing and construction subsegment, minerals fell 3%, while forest products slid 1%. Chemicals (DD), which account for the highest share in CSX's Merchandise volumes, fell 2%. Agricultural and food products' volumes fell by an equal percentage.
The weakness in the Eastern crude-by-rail (CVX) market led the decline in chemical volumes, which was partially offset by higher shipments of fractionating sand and strengths in non-energy-related chemicals (DOW). The automotive (TM) volumes were down due to reduced production. The falls resulted from a slowness in North American vehicle sales. The metals and equipment volumes fell due to one-time equipment hauling in 2Q16. The shipments of scrap metals plummeted on account of customers' preference for trucking over rails.
Management insights
CSX anticipates its Merchandise business to rise at or above the growth rate of the US economy. The weakness in the crude-by-rail environment will impact the chemical business going forward. However, the recovery in the fractionating sand shipments along with non-energy chemicals will push CSX's merchandise business. Even the shining North American vehicle sales have given fading signs. For CSX, the automotive volume growth in the rest of 2017 remains a concern.
All US-based Class I railroads comprise 5.2% of the portfolio holdings of the First Trust Industrials/Producer Durables AlphaDEX ETF (FXR).
Next, we'll look at the reasons behind CSX's higher operating margin in 2Q17.