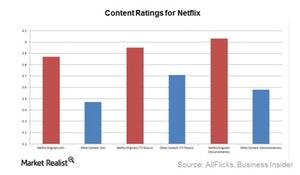 Why Content Is Such a Game-Changer for Netflix
By Shirley Pelts

Updated
Netflix's content strategy
You can find proof of the quality and popularity of Netflix's (NFLX) content in the fact that Netflix's original programming has received 91 Emmy nominations. Around 27 of Netflix's original programs have been nominated for the Emmy awards, making Netflix the streaming service with the most nominated series of any network.
Netflix expects to spend $6 billion on content this year and expects that this expenditure will only rise further.
Netflix is all set to release a lot of new shows in the second half of the year. However, Netflix also seems to be canceling quite a few of its popular original programming, including The Get Down and Sense 8.
The company was asked about the rationale regarding the cancellation of its shows during its fiscal 2Q17 earnings call. The company's management pointed out that usually, on a linear television network, 33% of the television shows get canceled in the first season, which isn't the case for Netflix.
Netflix looks at shows that have a deep fan base and tries to balance out this appeal with the cost of producing a show. This approach suggests that Netflix isn't in favor of shows with higher production costs and smaller fan bases.
Article continues below advertisement
Netflix's streaming content obligations
Netflix is also looking at different content genres, and it plans to invest in its content genres on a greater scale. However, the company's focus on content has meant that Netflix's streaming content obligations are also on the rise.
Netflix recorded streaming content obligations of $15.7 billion in fiscal 2Q17, up 19% year-over-year. The company stated during its fiscal 2Q17 earnings call that it has observed a rise in its median viewership hours compared to around two to three years ago.
However, according to Netflix, it's still behind Alphabet's (GOOG) YouTube when it comes to viewership hours, and it believes content is the only way to lure more subscribers to its streaming service.