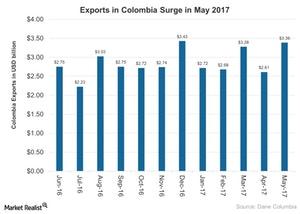 Why Colombian Exports Could Improve in 2017
By Mary Sadler

Jul. 10 2017, Updated 7:37 a.m. ET
Export-dependent economy
After a disappointing 1Q17 GDP figure in Colombia, economic activity was expected to gradually gain strength in 2017. The improved growth expectation for the Colombian (GXG) economy in 2017 is mainly due to accommodative monetary policy and reduced instability. External factors are also expected to support economic activity as global demand recovers in 2017.
Colombian exports stood $3.4 billion in May 2017, an increase of about 30% as compared to $2.6 billion in the previous month. Let's look at exports in Colombia in May 2017 as of July 5, 2017, in the below chart.
Article continues below advertisement
Commodity exports in May 2017
The increase in exports was mainly driven by higher sales of fuels and mining products, agricultural goods, food and beverages, and manufactured goods. The export of fuels and mining products saw the highest increase at about 28% in May 2017 as compared to the same period last year. The agricultural goods and food and beverage products followed at 23.5% growth in the same period. Commodity (DBC) exports are mainly influenced by their prices, and any decline in the commodity prices is likely to impact Colombian exports in 2017.
Oil exports in May 2017
The oil and gas (USO) (UGAZ) sector in Colombia has continued to struggle. As per the data from the Ministry of Mines and Energy, Colombia's average oil production fell 12% year-over-year in 2016 to 885,000 barrels per day. The operational difficulties faced at some of the fields and attacks from guerrilla groups like the National Liberation Army affected production volumes in the sector in 2016.
Colombia exported about 17.4 million barrels of oil in May, a 13.3% decrease as compared to 20 million barrels in the same period the previous year, as per Dane Colombia. Over the five-month period from January to May 2017, exports rose 24.9% as compared to the same period last year. The peace agreement signed in 2016, which puts an end to the Colombian conflict, could help the oil and gas (DBO) sector in Colombia to return to its actual capacity.