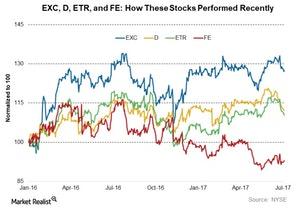 Which Utilities Are Most Exposed to Troubled Nuclear Generation?
By Vineet Kulkarni

Nov. 20 2020, Updated 3:52 p.m. ET
US utilities with higher nuclear generation
US nuclear generation accounts for 9% of total US capacity. Its share of total power generation last year accounted for nearly 20%. Exelon (EXC) is the largest nuclear power generator in the country, with more than 22 gigawatts of nuclear capacity.
Exelon is also one of the companies that's most exposed to the pitfalls of unprofitable nuclear generation. Dominion Energy (D), Entergy (ETR), and FirstEnergy (FE) are other US utilities with high nuclear capacities that have closed or are planning to close their nuclear power plants going forward.
Article continues below advertisement
Utilities seeking aid
Chicago-based Exelon is seeking state aid in order to make nuclear generation more lucrative. US utilities (XLU) are asking states for financial help for nuclear generation based on safeguarding employment and creating no carbon footprint. New York became the first state last year to subsidize nuclear generation, with an annual aid of $500 million to both leading nuclear players in the state, Exelon and Entergy.
Exelon has pursued the same strategy in Illinois, but the state's decision is still uncertain. Exelon has received heavy criticism from independent power producers for seeking state aid.
Dominion Energy's Millstone nuclear power plant could see the same fate as Kewaunee after the state of Connecticut rejected a bill that would have allowed it to buy power from the plant. The utility said that the Millstone plant would be highly uneconomical without state support. The Kewaunee power station had a capacity of 556 megawatts. It was located in Wisconsin, and it closed in May 2013.
Entergy is planning to close its Pilgrim nuclear power plant in Massachusetts by mid-2019. FirstEnergy is also said to have sought state aid for its cash-burning nuclear plants.
Many of the above-mentioned nuclear power plant retirements are happening roughly one decade or earlier than their planned license expirations.