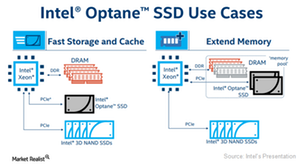 What's the Target Market for Intel's 3D NAND and 3D XPoint?
By Puja Tayal

Updated
3D NAND
Intel (INTC) has reentered the memory market, but it hasn't done so as a commodity memory supplier. Instead, Intel is offering memory products to enhance its overall data center offerings.
Intel isn't much affected by NAND prices because more than 80% of its 3D NAND products are meant for the high-margin data center markets, which demand higher performance. 
The reason that Intel doesn't offer all its 3D NAND products in the data center space is that new memory architecture takes six to 12 months to qualify for the space. The company monetizes this qualification time by selling new memory architecture in the PC (personal computer) market.
Article continues below advertisement
In 2Q17, Intel launched its 512 GB (gigabyte) 3D NAND SSD (solid-state drive) 545s for PCs, pricing it at $180. The 545s has capacity and cost advantages over Samsung's (SSNLF) 500 GB (gigabyte) 850 EVO, which is priced at ~$220, according to PC World. Intel may eventually launch 256 GB, 1 TB (terabyte), and 2 TB versions of the 545s.
3D XPoint
3D XPoint is a hybrid memory technology that includes the best of flash memory and DRAM (dynamic random-access memory). Intel is looking to directly link 3D XPoint with its server processors to significantly boost the latter's performances. However, a third-party review of 3D XPoint–based Optane SSD has painted a negative picture of the product.
In the report, Wikibon's chief technology officer, David Floyer, compared Intel's 32 GB Optane Series PCIe (peripheral component interconnect express) M.2 2280 Memory Module to Toshiba's (TOSBF) 3D NAND-based XG5 M.2 Drive.
Floyer found that the Optane was four times faster than the XG5, but he claimed that users could get this performance in a more cost-effective way by putting a DRAM cache in front of the X5. He also found that the Optane had better endurance than the XG5 but that a user could obtain a similar level of endurance in a more cost-effective way by overprovisioning 3D NAND.
It remains to be seen whether Intel can enhance Optane's performance and create a new market for its 3D XPoint technology.