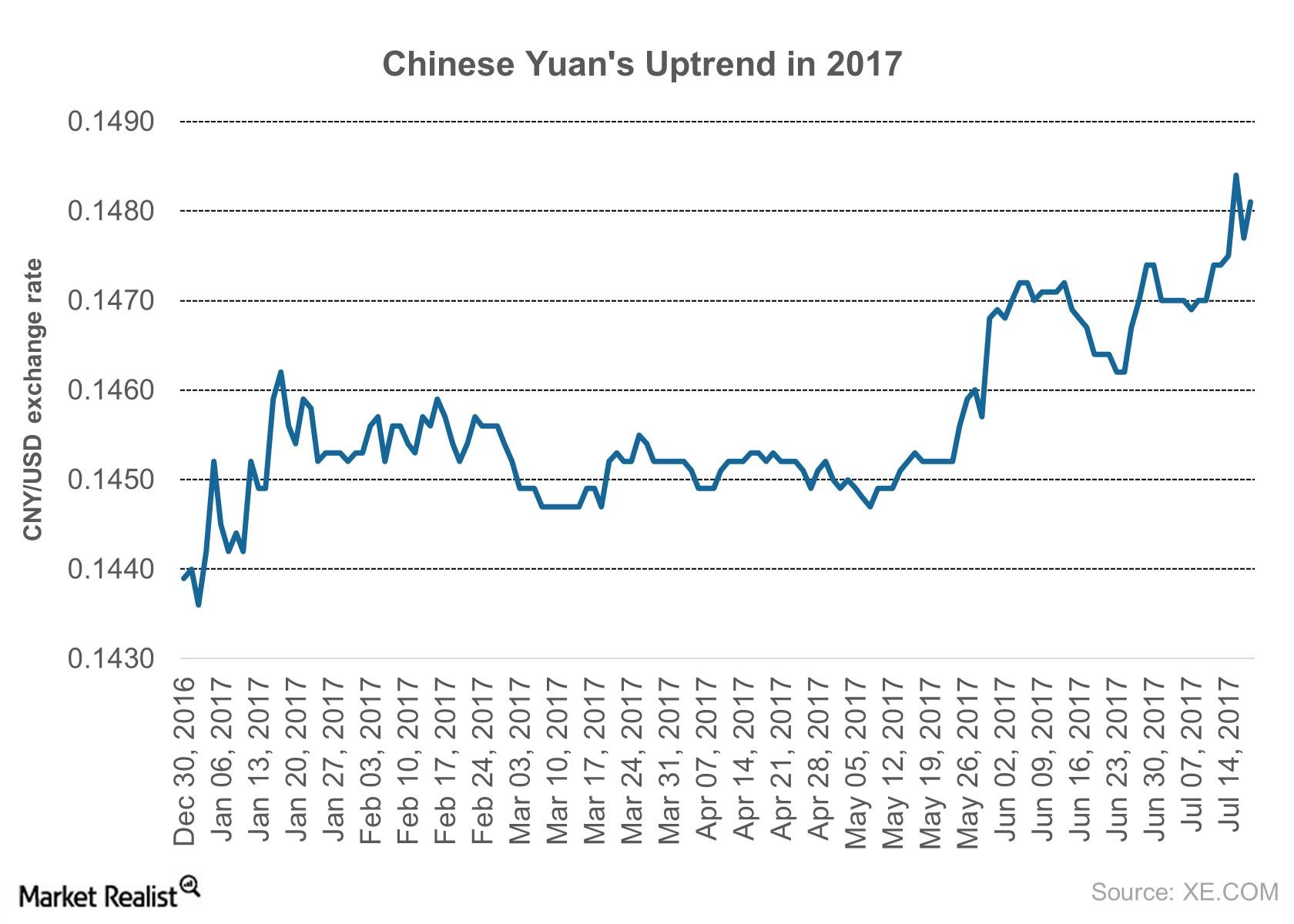 What's behind the Chinese Yuan's Uptrend in 2017?
By Mary Sadler

Jul. 24 2017, Updated 7:37 a.m. ET
The yuan in 2017
The Chinese yuan (FXI) has surged to its highest level against the US dollar (SPY) in 2017 amid the mixed performances of its macroeconomic factors. As of July 19, 2017, the yuan has risen ~0.5% against the US dollar so far in July, and it's risen 3% against the dollar so far in 2017.
The yuan has been surging in 2017 despite weak manufacturing activity over the last few months. The surge can largely be attributed to intervention by Chinese officials and tighter capital controls. Also, the rise in the cost of short-term borrowing of the yuan has led to a rise in the currency, according to several analysts and traders.
Article continues below advertisement
The CNH Hong Kong Interbank Offered Rate (or CNH HIBOR) benchmark, which is set by the Treasury Markets Association (or TMA), rose to 21% for overnight contracts in May 2017, its highest level since January 6, 2017, when it was 5.3%, according to Reuters. The CNH HIBOR is currently at 2.4% for overnight contracts as of July 20, 2017.
The yuan has been climbing in 2017. It hit a six-week high on July 18, 2017, when it stood at $0.15 per yuan. Recently, the PBOC (People's Bank of China) announced that it planned to change its methodology in calculating the yuan's daily reference rate against the US dollar.
China's shift to a more controlled exchange rate system is due to the yuan's ~5% fall in 2016. Capital outflows and currency weakness in 2016 resulted in the use of more than $200 billion in foreign exchange reserves and increased capital controls, according to Reuters.
Counter cyclical adjustment factor
According to new calculations, a counter cyclical factor will be added to the yuan's daily fixing rate. The new method is expected to reduce the exchange rate's volatility, undermining the free market forces in determining the exchange rate of the world's second-largest economy.
Expectations
The Federal Reserve's recent interest rate hikes in the United States are also likely to affect the yuan in 2017. Higher rates in the United States (QQQ) will encourage capital to move out of China (MCHI) in search of higher yields in the United States (TLT) (IEF). This shift is likely to further tighten controls by Chinese officials in 2017.
Chinese officials are expected intervene to counter the yuan's depreciation yuan due to the Fed's rate hike in 2017. Currently, the US dollar is trading at 6.76 yuan as of July 20, 2017, its weakest level since November 16, 2016.
Let's look at China's manufacturing activity in the next article.