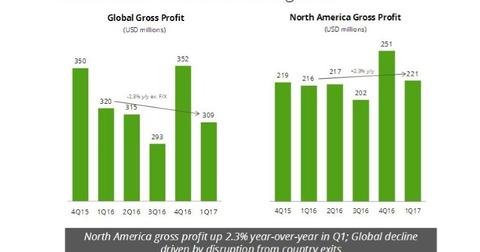 Understanding Groupon's 3 Priorities
By Neha Gupta

Updated
Improving earnings and free cash flow
Groupon (GRPN) is pursuing three priorities this year, and it's likely to remain committed to these priorities for the long term as it seeks to create more value for shareholders.
Groupon management says achieving these three priorities will lead to multiyear earnings and free cash flow growth. The goals are accelerating customer acquisition, accelerating purchase frequency, and improving gross profits and efficiency.
The priorities that Groupon has outlied also speak to its efforts to try to outsmart competitors such as Yelp (YELP), Amazon (AMZN), Overstock.com (OSTK), and Quotient Technology (QUOT).
Article continues below advertisement
Eliminating pain points for shoppers
Speaking at the J.P. Morgan industry conference last month, Groupon's CEO, Rich Williams, and CFO, Michael O. Randolfi, discussed efforts to continue growing the customer base at a healthy pace. Groupon concluded 1Q17 with 4.1 million more active customers worldwide than it had a year earlier.
In addition to customer acquisition, Groupon is also working to increase transactions per customer.
To increase purchase frequency, Groupon is working to simplify transactions by removing pain points for shoppers. For example, instead of customers having to print vouchers to take advantage of offers, discounts can automatically load to a customer's card so that they redeem the offer when they swipe their card normally at a store.
Groupon's own products command higher margins
As for improving gross profits, Groupon sees significant opportunity in encouraging the sale of its own goods, which Williams explained generates higher revenues and gross profit margins compared to third-party business.
The above chart shows Groupon's global and North American gross profit figures for 1Q17.