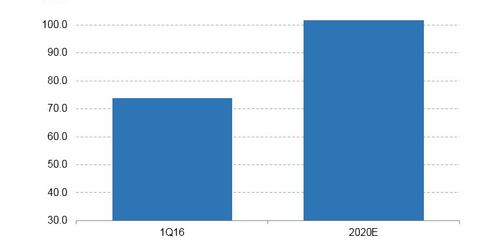 The WannaCry Crisis: An Opportunity for Symantec
By Ruchi Gupta

Updated
Over 200,000 computers attacked worldwide
Cybersecurity stocks rallied following the WannaCry ransomware attack, which paralyzed more than 200,000 computers in some 150 countries. Investors turned their focus to security stocks in anticipation of the WannaCry attack prompting organizations to increase their cybersecurity spending. One notable security company poised to benefit from the WannaCry crisis is Symantec (SYMC), the maker of Norton and LifeLock security products.
Article continues below advertisement
Security market is huge and expanding rapidly
Before the WannaCry incident, IDC Research predicted that organizations will spend $101.6 billion on cybersecurity in 2020, up from $73.7 billion in 2016. However, in the wake of WannaCry, organizations could dramatically expand their cybersecurity budgets in fear of being hacked. Security firms Cisco Systems (CSCO), FireEye (FEYE), SecureWorks (SCWX), and Imperva (IMPV) are also putting their best foot forward to profit from the burgeoning security budgets.
Symantec's strategic positioning
Post WannaCry attack, Symantec has made a number of announcements that may attract organizations and consumers keen on tightening their data security. Symantec, for instance, announced that its Norton Core secure Wi-Fi router would be available for preorder online. The router costs $250 and is designed to extend protection to home networks and other connected personal devices.
In a more telling note, Symantec also talked up its security credentials, saying that its security products were able to thwart more than 20.0 million WannaCry infections targeting some 300,000 endpoints. For the release of data, hackers behind the WannaCry assault demanded $300 in ransom from each victim.