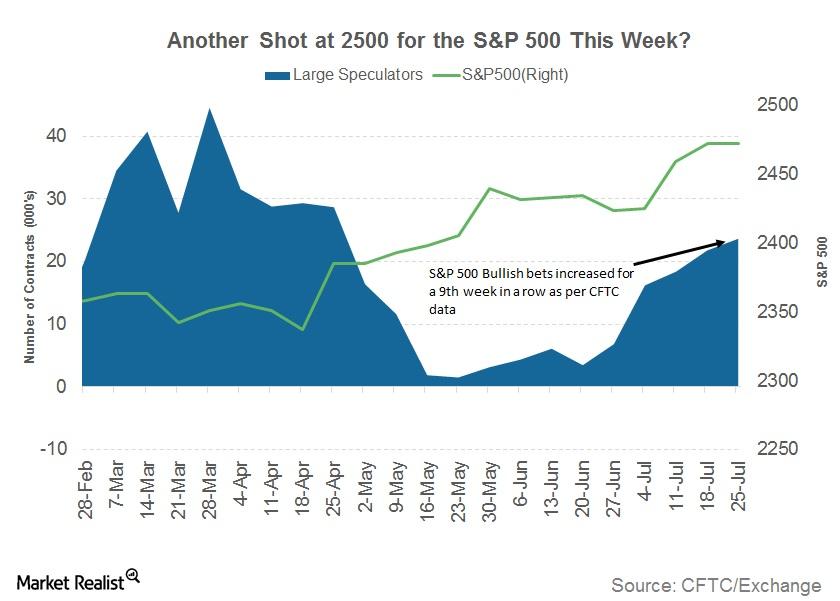 S&P 500 Index: What to Expect This Week
S&P 500 Index 
The S&P 500 Index (SPY) recorded yet another lifetime high at 2,484.04 due to better-than-expected earnings in the first half of the previous week. The index closed the previous week at 2,472.10—down 0.02%. However, it's still on track for another positive monthly close. The S&P 500 Index recorded only one negative month in the last nine months. Key drivers for market action this week were earnings. Investors also noted the possible delay in rate hike from the Fed after the July monitor policy statement on Wednesday. There wasn't a change in the interest rates but a dovish view on inflation made investors price in delays regarding more rate hikes.
Article continues below advertisement
US economic data indicated that the second quarter GDP in the US grew at a slower pace (2.6%) than markets' expectations (2.7%). A key takeaway from the other data was the rise in investment towards equipment, which indicates that businesses were increasing capital expenditure—a positive sign for the economy.
Speculators continue to increase bullish bets
For the week ending July 28, the total outstanding net bullish contracts of large speculators in the S&P 500 Index rose to 23,631—compared to 21,761 contracts in the previous week. The data were reported by the Commodity Futures Trading Commission in its weekly "Commitment of Traders" report. It's the eighth straight week of gains in bullish positions for the S&P 500 Index.
Another week and another high?
Earnings will continue to pour in this week. Major US companies that will report their earnings include Apple (AAPL), Pfizer (PFE), and AIG (AIG). Earnings are expected to remain a positive driver for the indexes this week. After last week's tech stock (XLK) retreat, investors could be cautious this week.
In the next part, we'll analyze why the US dollar (USDU) fell to a 13-month low in the previous week.