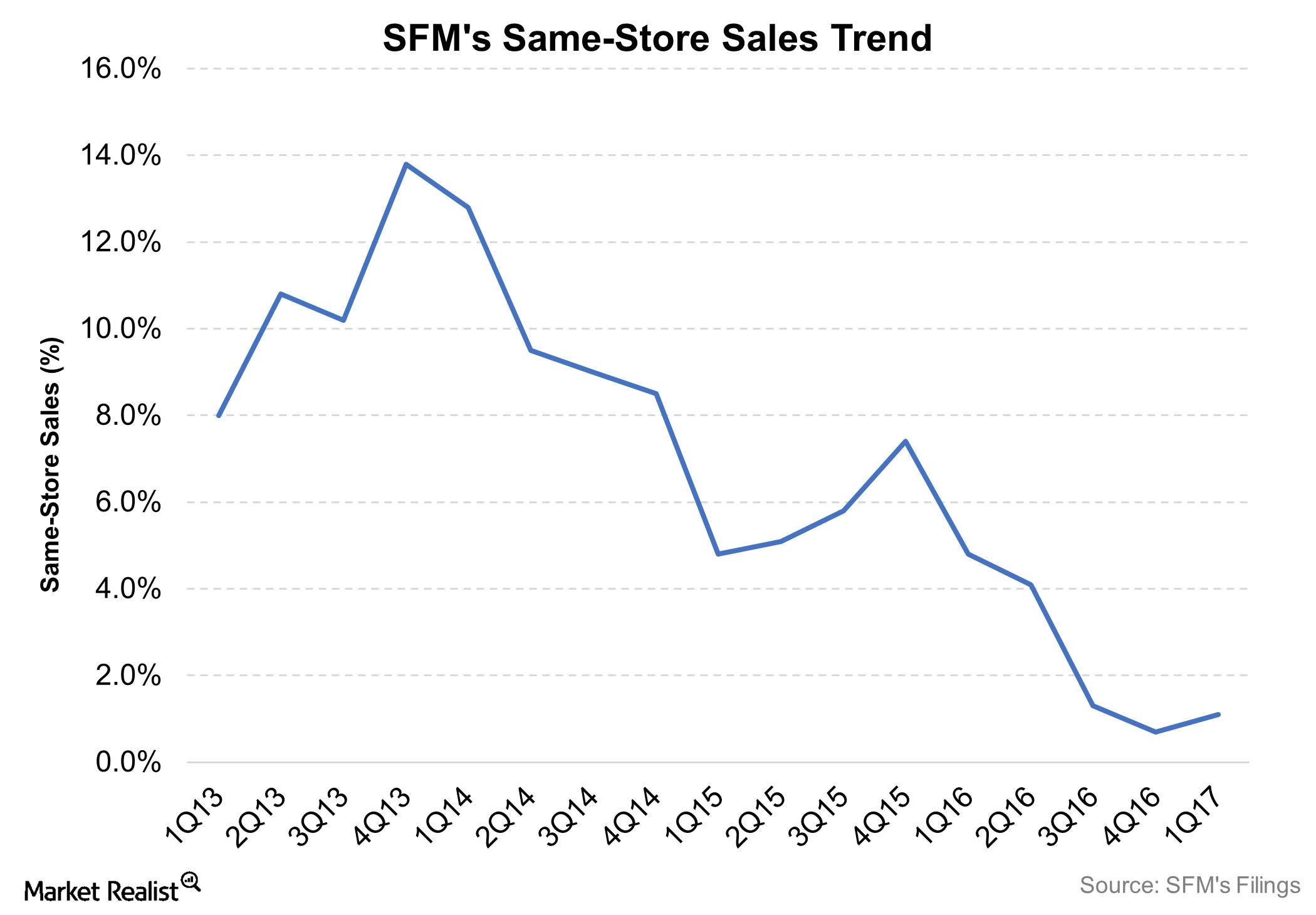 SFM's Sales Comps to Remain in Positive Territory in 2Q17
By Sonya Bells

Jul. 21 2017, Updated 10:41 a.m. ET
Sprouts Farmers Market: Maintaining positive comps
Sprouts Farmers Market (SFM) is among a handful of grocery names that have maintained positive same-store sales despite the ongoing headwinds in the retail food space. The company has successfully survived deflation and rising competition, posting 40 consecutive quarters of positive sales comps.
This is particularly impressive when compared to the bigger name in organic grocery—Whole Foods Market (WFM)—which has seen seven consecutive quarters of same-store sales declines and is expecting several more.
Kroger (KR), which is the biggest supermarket in the US, also couldn't weather the storm. The grocer dropped into negative territory after posting 52 quarters of positive sales comps. Kroger has posted negative sales comps over the last two quarters.
Article continues below advertisement
Analyzing SFM's comps performance
Although Sprouts Farmers Market has maintained positive comps, which are among the best in the industry, the company has seen severe deterioration over the last few years. Sales comps have fallen from 10% growth in fiscal 2014 to a 1.1% increase in 1Q17.
The primary reason for the slowdown is ongoing food deflation, which forced grocers to enter a price deflation war, resulting in a highly promotional retail environment. Sprouts Farmers Market's management noted during the last earnings call that deflation reached 3% during the quarter, which was the highest since SFM became a public company.
Looking forward
Sprouts Farmers Market's management expects deflation to ease by the end of 2017 and expects fiscal 2017 to be in the 1%–2% deflationary range. Its sales comps are predicted to lie in the 0.5%–1.5% range for fiscal 2017. For 2Q17, comps are likely to be at its 1Q17 levels.
Investors looking for broad-based exposure to SFM through ETFs can consider the First Trust Consumer Staples AlphaDEX ETF (FXG). SFM comprises ~3% of FXG's portfolio.