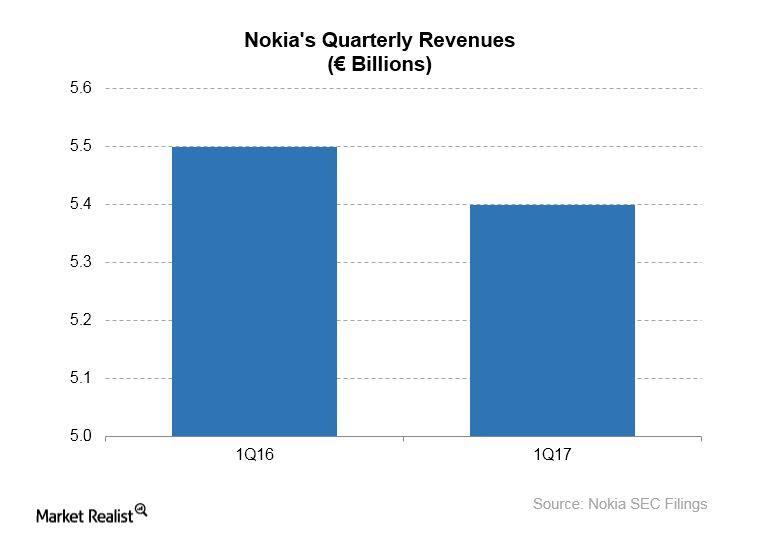 Nokia Is in Balance Sheet Cleanup Mode
By Ruchi Gupta

Nov. 20 2020, Updated 4:14 p.m. ET
Retiring notes ahead of maturity
Nokia (NOK) is set to spend ~$1.5 billion to repurchase notes issued by it and its subsidiary Alcatel-Lucent (ALU). The notes Nokia is repurchasing are years away from their maturities.
For example, the $300.0 million notes issued by ALU, which carry a 6.50% coupon, were set to mature in January 2028. The $1.4 billion notes issued by ALU, which carry a 6.45% coupon, were set to mature in March 2029. Then there's the $1.0 billion worth of notes issued by Nokia and carrying a 5.38% coupon, which were set to mature in March 2019.
The idea behind retiring the notes early is that by doing so, Nokia can reduce its debt burden, especially the debt load at its ALU subsidiary.
Article continues below advertisement
Early tendering and repurchasing limits
In May 2017, Nokia announced a tender offer to repurchase some of these notes. It said on June 13 that the holders of these notes had tendered notes worth ~$1.5 billion. It also said that it would repurchase all ALU notes that were tendered within the early tendering period.
Positioning for 5G opportunity
Nokia acquired ALU to bolster its competition against Cisco (CSCO) and Ericsson (ERIC) in the telecommunications (or telecom) equipment market. These telecom equipment vendors are positioning themselves to ride the 5G (fifth-generation) network upgrade wave. Verizon (VZ) and AT&T (T) are among the carriers testing their 5G signals.
As shown in the chart above, Nokia's 1Q17 revenue of 5.4 billion euros reflected a fall from over 5.5 billion euros a year earlier. However, the company's 1Q17 revenue figure still beat the consensus estimate.