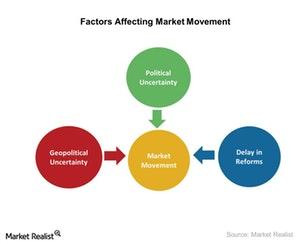 Morgan Stanley's James Gorman: Political and Geopolitical Risks
By Sarah Sands

Nov. 20 2020, Updated 12:39 p.m. ET
James Gorman's interview with CNBC
On Thursday, June 29, 2017, in an interview with CNBC, James Gorman, CEO (chief executive officer) of Morgan Stanley (MS), shared his views on the global market. He also talked about risks to movements in the market, the outcome of the bank stress tests, and the global bond yield.
According to Gorman, the equity market (IWM) (IVV) is looking expensive. However, earnings growth is supporting the movement of the US market (QQQ) (SPY). In the first quarter of 2017, earnings growth showed strong improvement. Many analysts and market participants are optimistic about the future of earnings growth.
Article continues below advertisement
Factors affecting market movement
However, Gorman said there are some factors that are affecting market movement; namely, political and geopolitical risks. For the current political environment, he focused on delays in implementing President Donald Trump's various agendas. He said that investors are waiting for something to happen, either tax reform or the reform of healthcare. Since none of these reforms are happening, investor uncertainty is increasing.
On the geopolitical front, he said that uncertainty rose after the Brexit decision in June 2016, and it could create more geopolitical risks in the overall global economy. Billionaire investor Bill Gross believes the Brexit marks the end of globalization. Other factors such as earnings growth and valuations are also supporting movement in the market.
In the next part of this series, we'll see why Morgan Stanley is so bullish on bank stocks.