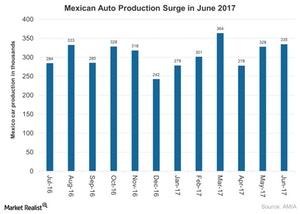 Mexico's Auto Production Set a Record in June—Will It Continue?
By Mary Sadler

Updated
Mexican auto industry
The auto industry in Mexico (EWW) depends on NAFTA (North American Free Trade Agreement), as major auto manufacturers in the United States (CARZ) have made Mexico their manufacturing and export hub. Cheap labor and a large number of free-trade pacts have made the Mexican market attractive to US companies (FCAU) (GM). Auto production and exports continued to rise in 2017 amid President Donald Trump's anti-trade sentiments.
Mexico (UMX) produced a record 335,000 vehicles in June 2017, a rise of 4.9% year-over-year and 2% month-over-month. Let's look at Mexican auto production over the last year.
Article continues below advertisement
Mexican auto exports in June
Auto exports rose to a record high of 277,000 vehicles in June, a 12% rise over the same period last year. Sales to the United States (SPY), which accounted for ~77% of total exports, rose to 215,000 vehicles, a rise of 15.9% in June. 
Exports to Canada (EWC) stood at 23,000 units, a 12% rise compared to the same period last year. Exports to Germany (EWG) stood at 7,100, a 27.3% fall in June 2017 compared to June 2016.
In 1H17, Mexico produced a record 1.9 million vehicles, a 12.6% rise compared to 1H16. It also exported a record 1.5 million units, a 14% rise compared to 1H16.
After NAFTA came into effect, the Mexican auto industry accounted for ~1.9% of Mexico's GDP as of 2001, and this amount rose to 3.4% in 2015, according to the Mexican Statistical Institute (or INEGI).
Economic impact
Improved exports in Mexico are expected to positively affect the country's economic growth in 2017. Labor reforms, trade openness, and foreign direct investment have helped boost exports—specifically auto exports—in the country.
However, US protectionist policies are likely to affect the highly-integrated value chains between the United States (QQQ) and Mexico. Some of the large US companies that could be negatively affected by these protectionist policies include Ford Motor Company (F), Fiat Chrysler Automobiles, and General Motors.