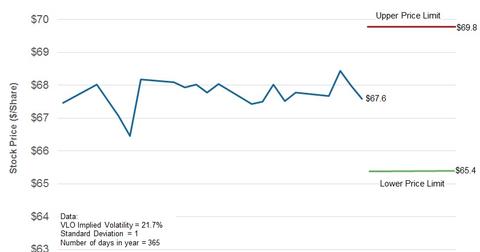 Mapping Valero's Stock Direction after the 2Q17 Earnings
By Maitali Ramkumar

Updated
Implied volatility in Valero
Valero Energy (VLO) reported earnings on July 27, 2017, and the implied volatility in VLO stock fell 2.7% from the previous day's 21.7%. However, this is still higher than the 30-day average implied volatility, which stood at 21.4%.
On the same day, Valero stock price fell 0.6%.
Article continues below advertisement
Peer implied volatility
Like VLO, the implied volatility in Delek US Holdings (DK) fell 1.1% from the previous day to 40.2% on July 27. But the implied volatilities in Tesoro (TSO) and HollyFrontier (HFC) stocks rose 0.9% and 1.5%, respectively, to 23.5% and 33.2%, respectively, on July 27.
Notably, HFC's stock price rose 0.9% on July 27, while TSO and DK stock prices fell 0.1% and 1.4%, respectively, that day.
The SPDR Dow Jones Industrial Average ETF (DIA) saw a 0.6% fall in its implied volatility to 6.5% on July 27, while the SPDR S&P 500 ETF (SPY) witnessed a 1.2% rise in its implied volatility to 7.8%.
On July 27, DIA rose 0.4%, while SPY fell 0.1%.
Expected price range for 8-day period ending August 4
If we consider Valero's implied volatility of 21.7% and assuming a normal distribution of prices (bell curve model) and standard deviation of one (with a probability of 68.2%), Valero's stock price could close between $69.8 and $65.4 per share in the eight-day period after its earnings release on July 27 (ended August 4).