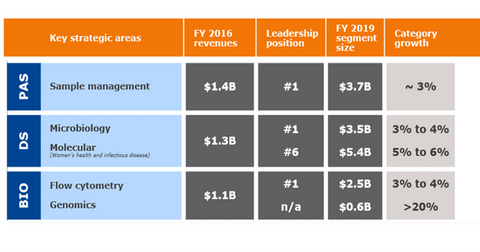 Inside the Latest BD Collaborations and Growth Accelerators
By Sarah Collins

Updated
Overview
Becton, Dickinson, and Company (BDX), or BD, has grown tremendously over the years, driven by the company's strategic acquisitions, collaborations, innovative technologies and strategic capital investments. Collaborations and partnerships have helped the company grow in markets with little presence and harness the growth potential of new geographies and end markets.
Article continues below advertisement
FlowJo and BD collaboration
BD is the leader in the flow cytometry devices market, which is a key growth subsegment in BD's Life Sciences segment. FlowJo is a life science informatics and data analysis company.
In June 2017, both these companies entered into a collaboration to offer FlowJo Envoy, a cloud-based platform, with BD's cell analyzer BD FACSymphony to enable improved workflow, data storage, and real-time data sharing and analysis by researchers. BD FACSymphony analyses single cells and can measure up to 50 different characteristics of a cell simultaneously.
Illumina (ILMN), Abbott Laboratories (ABT), and Thermo Fisher Scientific (TMO) are some of the major competitors in this market. Investors interested in participating in the growth potential of BD can invest in the iShares Russell 1000 Growth ETF (IWF), which has ~0.39% of its total holdings in BD.
Technology licensing to Roche
In April 2017, BD announced the licensing of its stochastic labeling technology to Roche for various commercial applications. The technology is a patented technology of BD and is not licensed exclusively to Roche. The agreement should help BD expand the reach of its technology through the commercial capabilities of Roche. The technology helps count individual biological molecules with precision in samples, which are often complex and limited by volume.
According to Stephen Gunstream, vice president of Genomics at BD, "Stochastic labeling with molecular indexes is a simple, yet powerful, approach for the accurate quantification of target molecules in complex biological samples. This technology enables a range of future products that will broadly benefit many areas of research and future clinical applications."