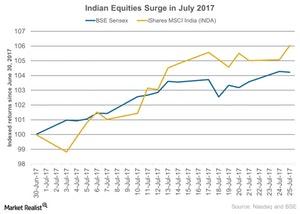 Indian Equities Continue to Attract Investor Attention in July
India equities performance
Sensex, India's (EPI) benchmark index, closed above the 32,000 mark for the first time on July 13, 2017. The rising influx of capital in Indian markets through foreign portfolio investment and domestic investment has helped Indian indexes to reach new highs in 2017.
On July 25, 2017, the BSE Sensex had risen ~4% so far in July. The Nifty, another important Indian index, also breached the historical 10,000 mark in July 2017. Improved expectations of corporate performance along with expectations of a normal monsoon season seem to be aiding the equities uptrend this month. India's financial year runs from April to March.
Article continues below advertisement
FPI as of July 2017
Foreign investors have pushed ~177 billion Indian rupees into Indian capital (INDY) markets in July 2017. This increased investment has mainly been due to the reforms undertaken by Prime Minister Narendra Modi's government. One significant tax reform, the goods and services tax (or GST), which was rolled out on July 1, is expected to keep investors jittery until it's completely absorbed by the market.
However, in the long term, GST is expected to immensely benefit the Indian market via improved tax collection and administration. The sectors that will likely benefit most from the tax reforms are metals (DBB) and fast-moving consumer goods (XLF) due to a likely fall in production costs.
So far in 2017, FPI (foreign portfolio investment) had inflows amounting to ~967.2 billion rupees as of July 25, 2017. Total FPI inflows were ~484.1 billion rupees for 2016–2017. On July 27, 2017, the rupee stood at 64.11 per US dollar.
Indian equities seem to be benefiting due to their recent outperformance against the iShares MSCI Emerging Markets Index (EEM). Investors also appear to have high expectations for policy reforms from India's ruling government, including the introduction of GST, the Insolvency and Bankruptcy Code, and the removal of the Foreign Investment Promotion Board.
The iShares MSCI India ETF (INDA) rose ~27%, outperforming EEM year-to-date, as of July 25, 2017. EEM rose ~25% in the same period. Some of the Indian stocks listed in the United States include Infosys (INFY), Tata Motors (TTM), and Housing Development Finance (HDB).
Vedanta (VEDL), the diversified energy company in India that's listed in the United States (SPY) (QQQ), hit a 52-week high on July 25 after it announced its stronger 1Q17 results.
Let's look at inflation in India in our next article.