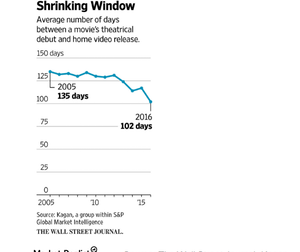 How Does Time Warner View Premium Video-on-Demand Services?
By Shirley Pelts

Aug. 1 2017, Updated 8:06 a.m. ET
Premium VOD service and TWX's take on it
There has been increasing speculation in the media industry regarding Hollywood studios offering premium VOD (video-on-demand) services. Such premium VOD services are likely to be priced between $30 to $50.
Time Warner's (TWX) Warner Bros. has also revealed an interest in offering a premium VOD service. According to the company, it was still in discussions with theater owners and believes that the premium VOD model would be beneficial for both movie studios and theater owners. The company believes that such a service would offer viewers flexibility to view movies whenever they want and would create more excitement around its movies.
Article continues below advertisement
Why the need for premium video-on-demand viewing?
As the above graph shows, according to a Wall Street Journal report, the window between a movie's release in theaters and its availability for home viewing is shrinking and was 102 days in 2016.
The need for premium VOD viewing has mostly been felt because of video streaming service Netflix (NFLX). This year, Netflix expects to release around 40 movies, and it's likely that all of them will be released on Netflix. Netflix is shaking up the traditional movie business model by giving Netflix subscribers first access to its movies.
This strategy has resulted in the reduction of theatrical windows for movies, as movies are becoming available earlier for home viewing. This trend could affect box office collections for Hollywood studios over the long term.