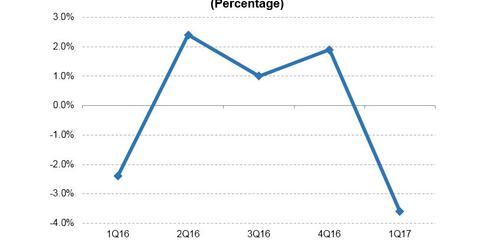 Here's Why Groupon Is Dropping Vouchers
By Neha Gupta

Updated
Improving shopper experience
Groupon (GRPN) is not only shifting its trajectory from pushing daily deals to becoming a daily habits marketplace but also altering the way it serves discounts to shoppers on its marketplace.
Groupon CEO Rich Williams, speaking at a J.P. Morgan industry conference last month, discussed the efforts they're making to improve shoppers' experience. By improving customers' experience, Groupon hopes to accelerate purchase frequency—one of three priorities the company's pursuing.
Article continues below advertisement
To improve the customer experience and increase purchase frequency, Groupon is trying to remove transaction frictions for shoppers. These frictions, which Williams said had held Groupon back for several years, are being removed by doing away with vouchers and promoting cashless or contactless transactions.
Integrating offers into customers' payment instruments
Instead of vouchers that shoppers need to print and then present to a store to enjoy a discount, Groupon is working on a model where discounts are automatically loaded onto a shopper's payment instrument, such as a card. A shopper can simply walk into a store, make a purchase, and swipe their card the normal way to redeem or earn the discount.
Groupon is also promoting contactless transactions as one way to remove frictions for customers. In cashless or contactless transactions, Groupon is making it easy for customers to pay for services. For example, a Groupon customer can simply walk into a salon or barber shop, get their hair done, and walk out while the payment is sorted out behind the scenes.
Jumpstarting sales growth