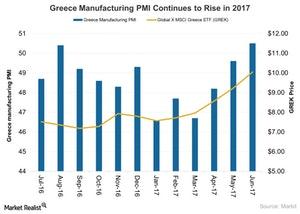 Greece's Manufacturing Activity Expands in June 2017
By Mary Sadler

Jul. 7 2017, Updated 7:41 a.m. ET
Manufacturing activity in Greece
The manufacturing PMI in Greece (GREK) continued to improve in June 2017, reaching 50.5 compared to 49.6 in May 2017. Greece's manufacturing activity returned to expansionary territory in June 2017 with the rise in new orders and output. The expansion in June 2017 indicated the first improvement in Greek manufacturing sector conditions over the last year.
The improvement in the manufacturing sector in Greece follows the positive development of the avoidance of debt default in July. In June, the European Union released loans of 8.5 billion euros to Greece to service its debt of ~7.0 billion euros to be paid in July. The chart below shows Greece's manufacturing activity.
Article continues below advertisement
Business conditions in Greece
Business conditions in the Greek manufacturing sector improved marginally in June 2017. New orders and outputs increased in June. New orders increased for only the second time in June over the last three years.
The rate of expansion remained marginal as a rise in client demand was offset by political instability, leading to a decline in demand from abroad.
Employment and purchasing activity
Greece's employment improved for the second consecutive month in June 2017, mostly due to increased client demand. The purchasing activity fell in June despite an increase in new orders. However, the rate of decrease remained at the same levels as in May 2017.
On the price front, the input prices increased slightly in June from the previous month. The average selling prices increased in line with the input costs, as the cost burden was passed to its customers.
Expectations
Greek manufacturers remained optimistic about the growth in output over the next 12-month period. Greece's economic output is estimated to grow 1.3% and 1.4% in 2017 and 2018, respectively, according to the latest IMF report.
Any improvement in economic activity in Greece is expected to positively impact investments in Europe (EZU) (VGK) (IEV) in 2017.
Let's look at Russian manufacturing activity in the next article.