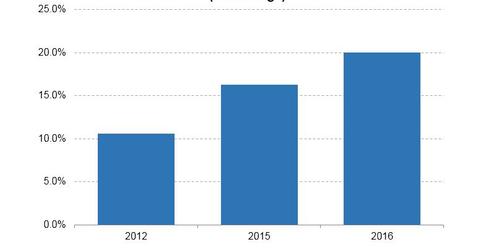 Google's Complicated Affair with the News
By Neha Gupta

Updated
News publishers seek Congress help
While Google's support for the robotic journalism initiative Radar could help news publishers bring more credibility to their work by avoiding inaccurate reporting, all is not well. Through a trade association called News Media Alliance, news publishers are asking US Congress to allow them to gang up against Alphabet's (GOOGL) Google and Facebook (FB) to fight for fair terms in digital news distribution and monetization.
The News Media Alliance represents news organizations including the New York Times (NYT), the Washington Post, which is associated with Amazon.com (AMZN) chief Jeff Bezos, and the Wall Street Journal, which is owned by a unit of News Corporation (NWSA).
Article continues below advertisement
Outcry over unfair dominance of advertising industry
Although these publishers appreciate the gateway that platforms like Google and Facebook have provided to help them reach more readers, they're uneasy with how these gateway providers have come to dominate the advertising market.
The News Media Alliance wants Congress to grant media publishers a limited relief under antitrust laws so they can bargain for fair terms with Google and Facebook on issues that relate to the use of their content, revenue, and data sharing. Google and Facebook are seen to have grown powerful to the extent that news publishers can't secure a fair deal with them if they negotiate individually.
How Google and Facebook dominate online ad market
According to research firm eMarketer, Google and Facebook will account for 60% of all US online advertising spending this year. These two giants took 20.0% of the worldwide ad spending in 2016 up from 16.3% in 2015.