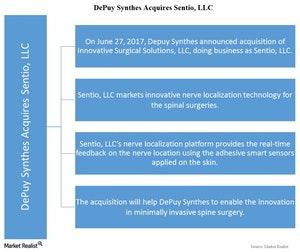 DePuy Synthes Acquires Sentio, LLC
By Mike Benson

Updated
DePuy Synthes
DePuy Synthes is part of Johnson & Johnson's (JNJ) Medical Devices business. DePuy Synthes provides solutions for orthopedic and neuro products and services related to joint reconstruction, spine, trauma, sports medicine, craniomaxillofacial, and power tools.
Article continues below advertisement
About Sentio
On June 27, 2017, Depuy Synthes announced the acquisition of Innovative Surgical Solutions, doing business as Sentio, LLC, which is a privately held company based in Michigan. The company markets innovative nerve localization technology for spinal surgeries.
Nerve localization is important during spine surgery utilizing a minimally invasive approach, also called lateral surgery. These surgeries report temporary as well as permanent neurological complications in certain cases. These complications include weakness or pain in the leg or hip due to the stretching of nerves near the surgical field. To reduce these complications, nerve localization systems are needed.
Sentio's nerve localization platform provides real-time feedback on the nerve location using adhesive smart sensors applied to the skin. The system is simple and can be set up by operating room personnel. It does not require neuromonitoring specialists and occupies minimal space in the operating room. The real-time feedback on nerve location is provided directly to the surgeon.
Sentio also has a similar technology for animals that helps detect nerve locations more rapidly at lower levels of stimulation, compared to competitors' systems.
The acquisition
The acquisition could help DePuy Synthes enable the innovation in minimally invasive spine surgery. The acquisition is intended to leverage its broad network, making Sentio's technology available to existing customers of DePuy Synthes around the world.
To divest company-specific risks, investors can consider the iShares US Healthcare ETF (IYH), which holds 10.8% of its total assets in Johnson & Johnson. IYH also holds 6.8% in Pfizer (PFE), 6.2% in Merck & Co. (MRK), and 4.3% in Amgen (AMGN).