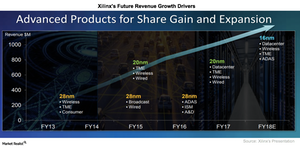 Could Xilinx Benefit from the Technology Industry's Shift to IoT?
By Puja Tayal

Jul. 20 2017, Published 12:34 p.m. ET
Analysts are optimistic about Xilinx
Xilinx (XLNX) has been in the spotlight recently, as analysts believe the company is well-placed to benefit from the technology shift to parallel processing and IoT (Internet of Things). Xilinx is Intel's (INTC) rival in the FPGA (field programmable gate array) market.
The technology world is shifting toward AI (artificial intelligence), 5G connectivity, and autonomous vehicles, creating a whole new opportunity for hardware and software companies. Because FPGAs can be programmed after manufacturing, they give users the flexibility to program them for any specific application. FPGAs are useful at the beginning of a technology cycle when it isn't feasible for tech firms to develop application-specific chips.
The shift toward IoT could see several new technologies evolve rapidly, which requires the flexibility of an FPGA or a general-purpose GPU (graphics processing unit).
Article continues below advertisement
Role of Xilinx in the technology shift
The data generated by IoT devices is transmitted to the data center, which has led to the 5G revolution. This 5G capability would require a software-defined network for seamless machine-to-machine communication, increasing the demand for programmable chips.
Data center and cloud companies would have to process and analyze the data received from IoT devices on a real-time basis, increasing the demand for accelerated computing. Automakers are looking to develop fully autonomous cars that require supercomputer inside the car. FPGAs would play key roles in these functions.
Xilinx is a leader in the FPGA market with a 58% share. Xilinx also has an 18-month technology lead over Intel, which ranks second in the FPGA space. As a result, Xilinx is well-placed to tap future growth opportunities arising from IoT.
Competitive landscape
Xilinx faces strong competition from NVIDIA (NVDA), which is at the forefront of accelerated computing and autonomous cars. Analysts believe that NVIDIA would benefit greatly from the technology shift. Intel is catching up by acquiring companies that have the technology to address future computing needs.
Xilinx is witnessing the first signs of growth as its FPGAs are being adopted by cloud companies such as Amazon (AMZN) Web Services and Baidu (BIDU) to provide application acceleration services on the cloud. The chip supplier plans to release its fiscal 1Q18 earnings[1. fiscal 1Q18 ended June 2017] on July 26, 2017, where these signs of growth would likely be visible.
In this series, we'll see what investors can expect from the company's upcoming earnings and its future growth opportunities.