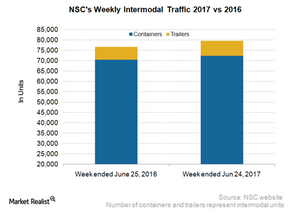 Comparing Norfolk's Intermodal Volumes with the Industry's
By Samuel Prince

Jul. 4 2017, Published 2:10 p.m. ET
NSC's intermodal volumes
In the week ended June 24, 2017, Norfolk Southern (NSC) reported a 3.8% rise in its overall intermodal volumes. The company moved nearly 80,000 containers and trailers in the reported week, compared to ~77,000 units in the week ended June 25, 2016.
Containers' share in NSC's total intermodal traffic fell 1% to over 72,000 containers, compared to over 70,000 containers in the 25th week of 2016. On a comparative basis, NSC's container volumes rose 2.5% in the reported week of 2017. Its trailer volumes rose an impressive 18% YoY (year-over-year). It hauled over 7,000 trailers in the week ended June 24, 2017, compared to over 6,000 trailers in the same week last year.
The company's intermodal growth, in percentage terms, was lower than the total rise reported by US railroad companies in week 25. NSC's rival CSX Corporation (CSX) witnessed higher growth compared to NSC in the same week.
Article continues below advertisement
NSC's Intermodal segment
NSC's Intermodal segment consists of freight hauling in terms of trailers, domestic and international containers, and RoadRailer equipment. The company handles intermodal shipments on behalf of international steamship lines, intermodal marketing companies, truckers, and other shippers. Norfolk Southern's Intermodal segment's 2016 revenue made up 22% of its overall operating revenue.
The eastern coast's volume rise has been driving NSC's intermodal growth in 2017. The restructuring of Triple Crown Services, which is aimed at focusing more on automotive (TM) freight, has also driven NSC's intermodal volumes in the current year.
Investing in ETFs
Investors wishing to opt for indirect exposure to transportation and logistics stocks can invest in the First Trust Industrials/Producer Durables AlphaDEX ETF (FXR). FXR's portfolio holdings include major US airlines (JBLU) and prominent railroad companies (UNP).
Next, let's look at CSX's railcar volumes.