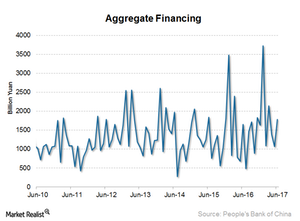 Can China's Selective Credit Growth Help Iron Ore Miners?
By Anuradha Garg

Jul. 26 2017, Updated 7:36 a.m. ET
Aggregate financing surged
Aggregate financing, which measures liquidity, reflects the total funds provided by a financial system to its nonfinancial sectors and households. 
China's (MCHI) aggregate financing came in at ~1.8 trillion Chinese yuan in June 2017, higher than its level of 1.1 trillion yuan in May and its median estimate of 1.5 trillion yuan.
Article continues below advertisement
New yuan loans grew, too
New loans issued by Chinese banks in June 2017 totaled 1.5 trillion yuan, compared to the 1.1 trillion yuan they issued in May 2017. New loans were also higher than the median estimate of 1.3 trillion yuan.
M2 money supply growth slowed
While the above two credit measures showed growth in June, the broad money supply rose just 9.4% YoY (year-over-year), lower than May 2017's 9.6% YoY rise and lower than the expectation of 9.5%. The M2 money supply includes cash, checking deposits, savings deposits, money market mutual funds, and other time deposits.
Article continues below advertisement
Credit growth slowing
The campaign by Chinese authorities to clamp down on excess leverage has started to pay off. Due to the measures these authorities have taken, M2 growth was squeezed in the last few months, including in June 2017. According to the People's Bank of China, slowing M2 growth means a more efficient use of credit, which could be a "new normal." Authorities are mainly targeting speculative lending while trying to keep credit flowing to corporations and households.
A continuous flow of credit to the sources creating real demand in the economy will be beneficial for the overall economy, and cutting off the speculative element will lessen volatility. These changes will be beneficial to the miners supplying raw materials (COMT) to Chinese steel mills. Rio Tinto (RIO), BHP Billiton (BHP) (BBL), Vale (VALE), and the Asia-Pacific division of Cliffs Natural Resources (CLF) are some of those players.