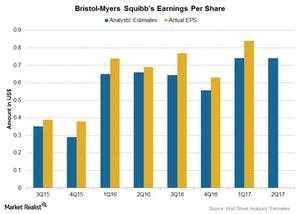 Bristol-Myers Squibb's 2Q17 Earnings: Analysts' Estimates
By Mike Benson

Jul. 27 2017, Updated 2:14 p.m. ET
A look at Bristol-Myers Squibb
Headquartered in New York City, Bristol-Myers Squibb (BMY) is a leading American pharmaceutical company.
Bristol-Myers Squibb's product portfolio includes drugs in various therapeutic areas such as cardiovascular, immunoscience, neuroscience, oncology, and virology.
Bristol-Myers Squibb is set to release its 2Q17 earnings on July 27, 2017. Analysts expect its EPS (earnings per share) to be $0.74 and its revenue to be $5.1 billion, compared to its revenue of $4.9 billion in 2Q16.
The chart above shows a comparison of BMY's actual EPS and analysts' estimates for its EPS over the last few quarters. It also shows analysts' estimates for 2Q17.
Article continues below advertisement
Revenue estimates
Analysts expect BMY's 2Q17 revenue to rise ~4.4% to $5.1 billion. The company's revenue is expected to be driven by its prioritized brands, including Opdivo, Eliquis, Orencia, Sprycel, and Yervoy, as well as its new drug Empliciti. Its revenue is expected to be partially offset by lower sales of its established brands, including drugs from its HIV franchise, its hepatitis B franchise, and its hepatitis C franchise.
Profitability estimates
Analysts' estimates show a gross profit margin of 72.0% for BMY in 2Q17, a 2.4% contraction compared to its gross profit margin in 2Q16.
Also, due to the fall in its R&D (research and development) expenses and its lower SG&A (selling, general, and administrative expenses) as a percentage of its total revenue, BMY's EBITDA (earnings before interest, tax, depreciation, and amortization) margin is expected to expand to 30.2% in 2Q17, compared to 28.9% in 2Q16. Its net adjusted income is expected to rise to ~$1.2 billion in 2Q17.
To divest company-specific risks, investors can consider ETFs such as the iShares US Pharmaceuticals ETF (IHE), which holds ~5.6% of its total assets in Bristol-Myers Squibb. IHE also holds 9.4% of its assets in Johnson & Johnson (JNJ), 6.1% in Eli Lilly and Company (LLY), and 7.9% in Merck & Co. (MRK).