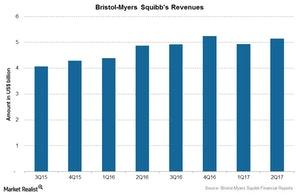 Bristol-Myers Squibb Reports Growth in 2Q17
By Mike Benson

Jul. 31 2017, Published 2:38 p.m. ET
Bristol-Myers Squibb's 2Q17 performance
Headquartered in New York City, Bristol-Myers Squibb (BMY) is an American pharmaceutical company that deals in innovative medicines for patients with serious diseases in therapeutic areas such as virology, oncology, cardiovascular, neuroscience, and immunoscience.
The graph above shows Bristol-Myers Squibb's revenues over the last few quarters. Nearly 45% of its total sales come from outside the US market, so it's exposed to currency risk.
Article continues below advertisement
Revenues and earnings 
Bristol-Myers Squibb's top line rose nearly 6% to ~$5.1 billion in 2Q17 due to operational growth of 7% in its revenue, which was offset by a 1% negative impact of foreign exchange. The company reported EPS (or EPS) of $0.74, meeting Wall Street analysts' expectations. It surpassed analysts' estimates for revenue, reporting revenue of $5.14 billion, compared to the estimate of $5.08 billion.
Segment-wise performance  
Bristol-Myers Squibb now operates in a single segment, but it's classified its drugs into prioritized and established brands:
Prioritized brands include the drugs Eliquis, Emplicity, Opdivo, Orencia, Sprycel, and Yervoy. BMY's total revenue from its prioritized brands was ~$3.9 billion in 2Q17, driven by the strong performance of all these drugs compared to 2Q16. The performances of these drugs will be discussed in the next article.
Established brands include the drugs from BMY's hepatitis C franchise, hepatitis B drug Baraclude, HIV drugs Reyataz and Sustiva, and other drugs. All these drugs reported revenue falls to a total of $1.2 billion in 2Q17, compared to $1.9 billion in 2Q16. We'll discuss the factors that affected established brands' revenue in the coming articles.
To divest risk, investors can consider the iShares US Pharmaceuticals ETF (IHE), which holds 6.2% of its total assets in Bristol-Myers Squibb. IHE also holds 8.1% in Pfizer (PFE), 7.6% in Merck & Co. (MRK), and 6.3% in Allergan (AGN).