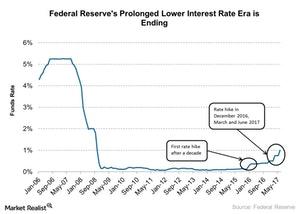 Bill Gross: Central Bank Policy Distorts Capitalism
Bill Gross on central bank policy
Bill Gross said in his July 2017 Investment Outlook that the central banks in major developed nations have maintained an ultra-low monetary policy for nearly a decade since the 2008 subprime crisis.
The money-printing activity not only inflated asset prices but also hampered the bond yield (BND). It also fueled economic growth (QQQ) (SPY) (VFINX) with a huge debt growth. Gross wrote, "To date, since the start of global Quantitative Easing, over $15 trillion of sovereign debt and equities now overstuff central bank balance sheets in a desperate effort to keep global economies afloat."
Article continues below advertisement
According to Gross, this activity has failed to renormalize both the nominal and real GDP growth. He added, "The adherence of Yellen, Bernanke, Draghi, and Kuroda, among others, to standard historical models such as the Taylor Rule and the Phillips curve has distorted capitalism as we once knew it, with unknown consequences lurking in the shadows of future years."
Capitalism is the phenomenon in which we believe an economy's industry and trade are mainly handled by private owners. Since the interest rate remained near zero for many years, it affected investor returns. The ultra-low interest rate hampered their returns on capital employed. Gross also believes that economic growth was hampered since it distorted capitalism.
In the next part of this series, we'll see what investors should watch since short-term interest rates are expected to rise.