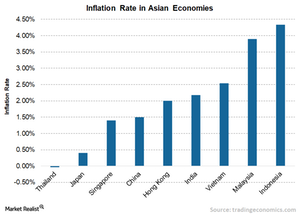 Are Asian Economies Stabilizing or Not?
By Matthews Asia

Jul. 24 2017, Updated 11:36 a.m. ET
Matthews Asia
Don't forget—Asia's markets have been somewhat lagging for a few years now, ever since they bounced back from the Global Financial Crisis. Whereas, by IMF estimates, Asia's economies grew by nearly 32% in aggregate in U.S. dollar terms between 2010 and 2016, earnings per share in the region grew by a paltry 5%. Asia has clearly been wringing out of its markets whatever excess was built up to fight off depression in 2009 to 2010. One can see this in the large current account surpluses in places like Singapore, Taiwan, and South Korea. In particular, Thailand, whose current account was in deficit as recently as 2013, now runs one at 10% of GDP. Across the region, inflation rates are low. Core inflation in the 12 major markets of the region averages less than 2%. In India and Indonesia (perennially high inflation countries) prices are rising at just 4.1% and 3.3% respectively.
Article continues below advertisement
Market Realist
Asian economies are exhibiting large current account surpluses—and lower inflation
Over the past few years, Asia has lost some of its growth momentum and has performed far below expectations. While the weak global economic recovery has weighed heavily on Asia's exports, domestic weaknesses have also played significant roles in the region's economic slowdown.
Factors that have affected growth in the region include the aging population, persistent deflation in Japan, and slower economic reforms in countries like China (MCHI), India (INDY), and Indonesia. Excess liquidity has meanwhile fueled asset price bubbles in some of these countries.
Economies are stabilizing
Still, many Asian economies have now stabilized and are posting decent economic growth. The higher current account surpluses we've seen in many nations helps confirm that some economies are recovering from the economic slump.
While Japan's (EWJ) (DXJ) current account surplus is at 3.8% of its GDP—its highest since 2007—Singapore, Taiwan, Thailand, and South Korea (EWY) have reported very high account surpluses. The IMF (International Monetary Fund) expects Asia to grow 5.5% this year and 5.4% in 2018.
Risk persists
Despite improvements, risks to economic growth in Asia are still in play. The withdrawal of economic stimulus in the US and Europe could adversely impact Asian economies, which are dependent on high external funding needs and weak domestic investments. This could also trigger capital outflows from the region and hurt business confidence.
Buoyed by lower food costs, consumer prices in many Asian nations are either very low or are declining. In Indonesia, India, and Thailand, prices have grown at a slower pace than estimated, allowing central banks to keep interest rates low for an extended period of time. And it looks highly unlikely that prices will pick up soon.