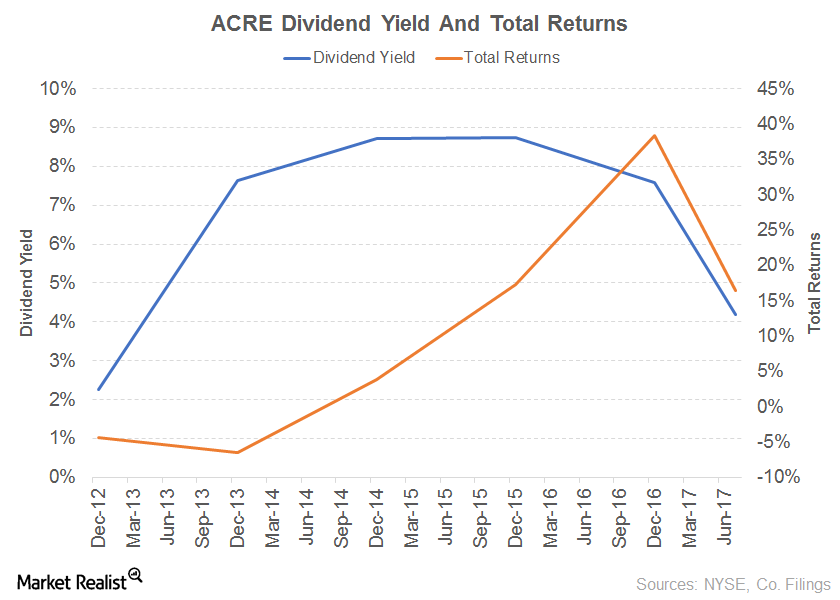 Ares Commercial Real Estate's Dividend Curve
Ares Commercial Real Estate's dividend curve
Ares Commercial Real Estate (ACRE) paid 73.7% of its earnings as dividends in 2016 compared to 117.4% in 1Q17. The first dividend was declared on June 18, 2012, after the REIT's April 2012 IPO.
The quarterly dividend payer has recorded consistent growth in its dividend rate per share since March 2016 after keeping the rate unchanged since December 2012.
The diversified REIT has maintained an average dividend yield of 7% and average total returns of 9.7% between May 2012 and May 2016. It has recorded a dividend yield of 4.2% and a total return of 16.4% on a year-to-date (or YTD) basis.
Article continues below advertisement
Fundamentals
ACRE specializes in meeting the diverse and underserved financing requirements of the middle-market commercial real estate space. When compared to 4Q16, its 1Q17 (versus 4Q16) and 2016 net interest margins have declined 18% and 10%, respectively, due to lower interest income.
ACRE's 1Q17 net interest margin posted 1% growth over 1Q16. Its 2016 and 1Q17 (versus 1Q16) EPS (earnings per share) growth figures were driven by non-recurring gains. ACRE's 1Q17 EPS slumped 26% compared to 4Q16 due to lower revenues, which translated into lower EPS.
ACRE recorded negative growth in FFO (funds from operations) in 2014 and 2016. ACRE's financial leverage is slightly lower than Arbor Realty's (ABR) financial leverage. ACRE's price-to-earnings ratio of 14.1x compares to a sector average of 19.2x. Its dividend yield of 8.4% compares to a sector average of 9.9%.