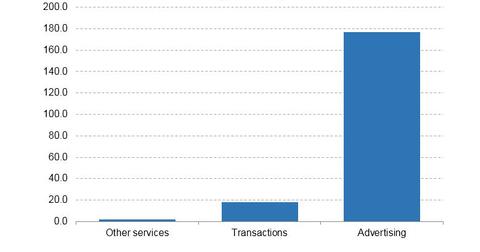 Why Yelp Acquired Properties Like Nowait and Eat24
By Neha Gupta

Jun. 21 2017, Updated 9:37 a.m. ET
Yelp's vision
In a May 2017 interview with the Wall Street Journal, Yelp's (YELP) CEO, Jeremy Stoppelman, discussed the company's vision, shedding light on why the company is expanding beyond reviews into areas such as transactions.
As part of its diversification beyond reviews, Yelp enables its users to get price quotes from businesses, make restaurant reservations, and order food for delivery. Yelp's expansion into transactions is part of the company's efforts be more useful to consumers.
Article continues below advertisement
Yelp stays with consumers in their next steps
When consumers have browsed Yelp reviews to see the most popular dish at a restaurant or what other consumers say about a business, they usually make a move such as contacting a business for a quote or heading out for a meal. Yelp wanted to stay with consumers in their next step of the review and information-gathering process, which is opening up new business opportunities for the company.
Yelp made a series of strategic acquisitions, tapping assets such as Nowait, Turnstyle Analytics, Eat24, and Request a Quote. Nowait allows users to add themselves to a restaurant's waitlist, and Eat24 allows users to order food for delivery.
Yelp's Transactions segment's revenues reached $18.1 million in 1Q17, up 25.0% from 1Q16. Its Other Services revenues jumped 107.0% to $2.2 million. Yelp's overall revenues totaled $197.3 million.
Advertising continues to be Yelp's core focus
Although Yelp's Transactions and Other Services businesses are growing rapidly, they are still a small part of the company's overall revenues.
Yelp doesn't expect these newer operations to eclipse its core advertising business anytime soon. Nevertheless, nurturing these newer businesses could help Yelp mitigate competitive pressure from Alphabet's (GOOGL) Google, Facebook (FB), Groupon (GRPN), and eBay (EBAY) in the local advertising market.