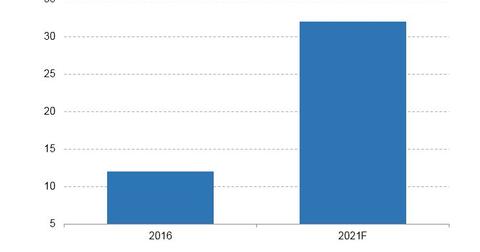 Why Google Is Using Elephants to Map the World
By Neha Gupta

Updated
Capturing the imagery of sacred sites
Google, an Alphabet (GOOGL) company, is using animals including elephants and camels to map remote pockets of the world as part of its effort to add value to its Google Maps app, according to the Wall Street Journal.
In Thailand, for instance, the company used elephants to capture images of remote sites in the country to add to Google Maps. Camels helped Google map sites in the United Arab Emirates.
In Australia, Google has worked with amateur human cartographers to capture rare images of the country's remote and sacred locations, such as the red rock formation in Uluru, a popular tourist site.
Article continues below advertisement
A $32-billion revenue opportunity
Experts see Google's efforts to capture remote parts of the globe as a bid to give Google Maps a distinctive touch in the rapidly growing market for digital maps. Media and advertising consulting firm BIA/Kelsey forecasts that the US (SPY) market for location-based advertisements will grow to $32.0 billion by 2021 and account for 45.0% of the mobile advertising market in the country. The US market for location-based ads was valued at $12.0 billion in 2016.
Digital maps are a vital part of autonomous driving as well. Google, Uber, Tesla (TSLA), and Ford Motor (F) are among the major companies with autonomous driving projects underway.
Digital mapping market is heating up
Google, Apple (AAPL), and other digital map providers are chasing the potential billions of dollars in map-based advertising and autonomous driving. In the race to control the future of driverless vehicles, a consortium of German automakers including Audi, BMW, and Daimler acquired Nokia's (NOK) digital mapping HERE Technologies.