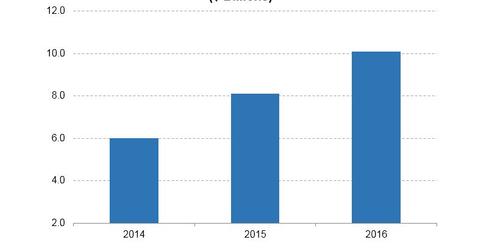 Why Apple's R&D Budget Has Been Swelling
By Ruchi Gupta

Updated
Insider offers explanation
Apple's (AAPL) R&D (research and development) machine has been chewing more and more cash in recent years, and the trend is likely to continue. So what's Apple busy doing in the labs, and what can investors expect?
Researching chips—processors and sensors—are what's driving Apple's R&D spending, the company's CFO (chief financial officer), Luca Maestri, revealed earlier this year. According to Maestri, in recent years, Apple has stepped up its chip development efforts, consuming more cash in the process.
Article continues below advertisement
R&D costs rise $266 million
Apple dumped $10.1 billion into R&D in 2016, up from $8.1 billion in 2015 and $6.0 billion in 2014. In its most recent quarter, it funneled $2.8 billion into R&D, implying a rise of $266.0 million compared to the previous year's corresponding quarter.
The ramping up of chip research also suggests that Apple is trying to take charge of its supply chain to better control costs, product quality, and release timing. Of course, this is Apple, so taking control of the supply chain could also mean sealing loopholes for product development leaks.
Cook links tepid iPhone sales to product leaks
Apple's CEO, Tim Cook, recently blamed supply chain leaks for Apple's downbeat fiscal 2Q17 performance. The quarter saw iPhone unit shipments plunge compared to a year ago and come up short of consensus estimates. The company claimed that leaks and rumors caused some customers to hold off their iPhone purchases.
More than meets the eye
Apple's intensive chip research, which is driving up its R&D costs, could also be related to secretive product plans such as expanding into the market for smart speakers to challenge Amazon (AMZN) and Alphabet's (GOOGL) Google. The company is also working on autonomous driving technology, potentially pitting itself against Google's Waymo, Tesla (TSLA), Uber, and Ford Motor Company (F), among others.