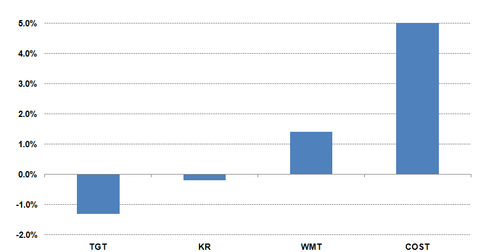 Why Amazon's Move Might Not Have Big Effect on Costco and Walmart
By Amit Singh

Updated
Walmart remains well positioned
There's no denying that Amazon's (AMZN) acquisition of Whole Foods (WFM) could have a significant impact on grocers' margins and result in store closures. However, Walmart (WMT) and Costco (COST) remain well-positioned and are likely to be the least impacted by Amazon's latest move, as their low prices, convenience, and vast offerings make them shopper-friendly destinations.
In the past two years, Walmart has made significant investments to turn around its business, which has resulted in improved performance. The company's efforts include price investments, store remodeling, and digital initiatives, which have positioned it well to drive top-line growth. As consumers are shifting towards online shopping channels, Walmart invested heavily in its e-commerce platform and expanded its online grocery offerings to more than 700 stores.
Article continues below advertisement
In addition, Walmart's restructuring initiatives have helped the company reduce supply chain days, which has resulted in fresher foods for consumers. Meanwhile, the company offers low prices, which is vital in driving store traffic as compared to Whole Foods, which offers premium pricing. Moreover, Walmart has ramped up its digital offerings and is testing several delivery methods to reduce last-mile shipping costs. Considering all these factors, Walmart is in good shape to compete against the combination of Amazon and Whole Foods.
Does Costco's model make it immune to this threat?
Costco has continued to post strong comps (comparable store sales) despite industry-wide sluggishness and growing competition from Amazon. The company benefits from its warehouse business model and offers low prices, which have helped the company to drive industry-leading growth in comps in the US (SPY). Plus, the company's loyal members and strong renewal rates of its membership program facilitate its growth. However, it's time for Costco to take its digital business more seriously in order to continue with its strong sales growth.
In the next part of this series, we'll discuss Walmart's latest acquisition.