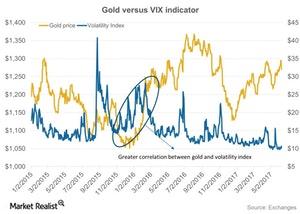 What Global Scenarios Could Give Impetus to Gold?
By Meera Shawn

Updated
Global phenomenon
Gold prices floated higher on Wednesday, June 28, due to weakness in equities markets and a relatively weak US dollar. The equities market gives a generic view of the overall market sentiment, which plays on precious metals. The more optimistic investors are about the economy, the less they need haven assets like gold and silver.
Similarly, in turbulent times, when equities experience a slump, gold and other precious metals will likely scale higher.
Article continues below advertisement
Lately, the growing tensions in the Middle East could give a bounce to haven bids for gold. The ECB (European Central Bank) President, Mario Draghi, has hinted that the ECB will trim back its stimulus program this year. This could be negative for the US dollar and thus positive for gold. Gold and the dollar often move in opposite directions.
Federal impact
The postponement of the vote on US healthcare overhaul could also have added to the risk element of the market. The credibility of Trump's promises during his campaign seems to be questionable now, after the failure of the Senate healthcare bill to come to a vote.
The US Federal Reserve's policies are another crucial player on gold. Though risk elements can add to the price of precious metals, another rate hike would be a strong negative influence and would likely drive such metals lower.
Notably, the SPDR Gold Shares (GLD) and the iShares Silver Trust (SLV) have risen 8% and 4.1%, respectively, on a YTD (year-to-date) basis. But most mining shares have faced a YTD losses, including Alacer Gold (ASR), Compania de Minas Buenaventura (BVN), Newmont Mining (NEM), and Goldcorp (GG), which have fallen 5.4%, 2.6%, 5.4%, and 2.9%, respectively, YTD.