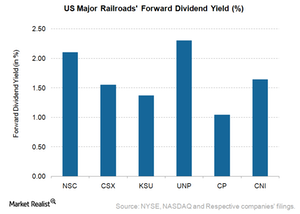 What Do US Railroads' Forward Dividend Yields Tell Us?
By Samuel Prince

Updated
Forward dividend yield
The railroad industry is included in the industrials sector, and railroad companies' forward dividend yields are historically low as compared with other industrial stocks. In fact, the fall in rail stock prices since their peak in 2014 has increased these companies' forward dividend yields.
Article continues below advertisement
About the forward dividend yield
The forward dividend yield is normally calculated by dividing annual anticipated future dividend payments by the current stock price. We should note, however, that the dividends of railroad companies haven't grown considerably for a few quarters now, but stock prices have fallen, which has raised forward dividend yields.
US railroads' forward dividend yields
Among the US Class I railroads, Union Pacific (UNP) has the highest yield of 2.3%. Norfolk Southern (NSC) follows with a yield of 2.1%, followed by CSX (CSX), which has a yield of 1.5%. CSX's low yield can be attributed to the sharp rise in its stock price after E. Hunter Harrison, Canadian Pacific's (CP) former CEO (chief executive officer), joined CSX as its CEO in March 2017.
Canada's second-largest freight rail, Canadian Pacific (CP), has the lowest yield of 1%, while the largest freight rail, Canadian National (CNI), has a yield of 1.6%. CNI's current dividend yield is near its lowest in the past two years.
Notably, CP's industry leading operating margin, not to mention its higher expected earnings among peers, has aggressively pushed the stock price. This has led to CP's dividend yield to a three-year high, though it's still the lowest in the peer group.
ETF discussion
Investors interested in exposure to industrial companies can invest in the Vanguard Dividend Appreciation ETF (VIG). Major US aerospace and defense companies together make up nearly 10% of VIG's portfolio holdings.
Keep reading (below) for a look at CSX's dividends and growth.