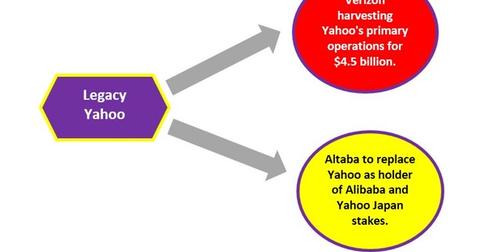 Verizon Buys Yahoo's Core Assets as Mayer Resigns
By Sanmit Amin

Updated
Verizon finally takes over Yahoo's core assets
Verizon (VZ) announced on Tuesday, June 13, that it had completed its $4.5 billion acquisition of Yahoo's (YHOO) core Internet assets. Marissa Mayer, who had been the CEO of Yahoo! and recently received a $23 million "golden parachute," has resigned. The acquisition was first announced back in July 2016, but was hampered after Yahoo later announced two hacking attacks that took place in 2013 and 2014, which affected 1.5 billion user accounts.
Article continues below advertisement
However, Yahoo won't stay the same. The company revealed earlier this year that it intends to shrink the size of its board of directors and change its name from Yahoo! to Altaba after it completes its deal with Verizon. Yahoo has struggled to grow its Internet business amid stiff competition for digital ad spending from the likes of Google (GOOG) and Facebook (FB).
What's next for Yahoo?
Yahoo will merge with AOL, which was also bought by Verizon for $4.4 billion back in 2015, to create a new online media and advertising subsidiary called Oath. Yahoo and AOL will benefit from the data Verizon has on its subscribers.
Yahoo was one of the pioneers in search engines. However, Google came along and outshined Yahoo, which caused Yahoo to redefine itself. While these attempts were costly, they were not successful, which eventually resulted in its sale. The deal ended the independent life of Yahoo.