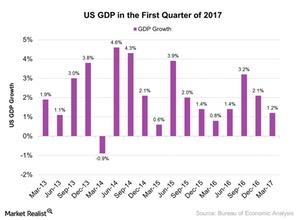 US 1Q17 GDP at 1.2%: Will It Speed Up Market Rally?
US Q1 GDP
According to the US Bureau of Economic Analysis's estimates, US 1Q17 GDP saw an annualized growth rate of 1.2%, which beat the market (VOO) (IWM) expectation of 0.9%. The 1.2% growth rate is the second estimate and shows better growth from the initial estimate of 0.7%. However, the reading was lower compared to the 2.1% rise in the 4Q16 real GDP.
Article continues below advertisement
Components of GDP
Consumption and nonresidential fixed investment played a major role in the first quarter GDP growth. These two components contributed the most to the first quarter GDP. Exports and fixed investment in the residential segment were higher during this quarter.
Consumer spending improved at a faster pace in 1Q17. In 1Q17, it rose to $11,688.5 billion as compared to $11,669.8 billion in 4Q16. US (QQQ) (SPY) consumer spending in the last two years has shown a gradual improvement.
However, imports also rose in 1Q17. Plus, the fall in auto sales dragged down GDP during the first quarter. Falling auto sales are a major concern for the economy. Billionaire investor Larry Fink already warned in April 2017 that the US could post the slowest Q1 growth among G7 nations, mainly as a result of the falling retail and auto sales.
How will it impact market rally?
The market showed an improved performance in the first quarter and in May. The S&P 500 Index (SPX-INDEX) rose nearly 1% in May 2017 and nearly 4.6% in 1Q17. The expectation for higher economic growth due to proposed policy changes mainly drove investors' sentiment. If the economy doesn't see higher growth, then we might see a fall in various indexes.
You may also be interested to read, Why George Soros Lost Money during the Trump Rally.