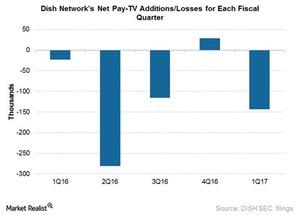 Time Warner's Turner: The Effect of Subscriber Losses for Pay-TV
By Shirley Pelts

Updated
Pay-TV subscriber losses and Time Warner
Last month, research firm MoffettNathanson said that pay-TV providers in the United States (SPY) lost 762,000 subscribers in 1Q17. That's five times more than in 1Q16. That could be a reason for Time Warner (TWX) to worry since its affiliate pay-TV operators could be unwilling to pay a higher affiliate fee to carry its programming.
Time Warner was asked about this trend at the MoffettNathanson Media & Communications Summit last month. The company stated that while subscriber losses for its pay-TV business were creating a concerning trend, subscriber gains for virtual MVPDs (multichannel video programming distributors) such as Dish Network's (DISH) Sling TV could help reduce the impact.
Article continues below advertisement
Time Warner also said it believes that currently there are ~2.0 million subscribers for virtual MVPDs and that the number is increasing. The company also said that on the surface, it appears that its pay-TV business is suffering subscriber losses and contracting by around 1.5%. However, by adding back subscriber gains from virtual MVPD services, it appears that the pay-TV industry is contracting by around 1.0%.
The company also said that in the changing landscape of the media industry and when it comes to content distribution, it's important to look at content as well as giving viewers better viewing experiences. It's in this area that Time Warner believes the acquisition by AT&T (T) will help the company.
Pay-TV subscriber losses and Dish Network
Dish Network (DISH) is a pay-TV company that has been beleaguered by subscriber losses. The company is struggling to gain new subscribers. By the end of 1Q17, DISH lost 143,000 pay-TV subscribers compared to a loss of 23,000 subscribers in 1Q16.
According to Dish, there are two reasons for the company's rising subscriber losses. One is rising competition from OTT (over-the-top) services such as Netflix (NFLX) and pay-TV operators such as Comcast (CMCSA) that are offering deep discounts on video services.
The other reason could be that Dish is increasingly concentrating on the retention of high-quality subscribers.