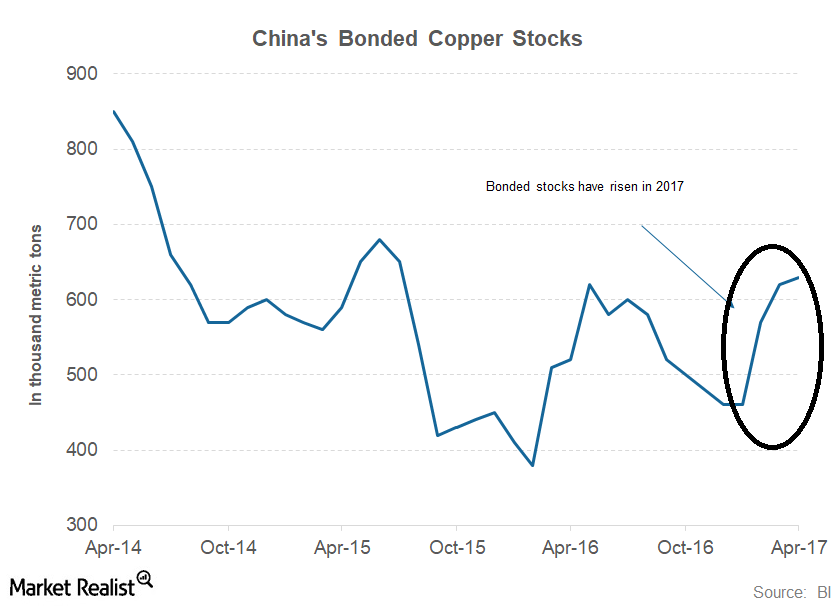 The Truth behind 2017 Copper Inventories
Copper inventory
Fluctuations in copper inventories have been key drivers of copper prices in 2017. We should remember that copper (DBB) is stocked in several warehouses, including LME (London Metals Exchange) and SHFE (Shanghai Futures Exchange) warehouses. We also have bonded copper stocks in China.
Article continues below advertisement
Inventory falls
To begin with, there tends to be some element of seasonality in copper inventories. As Chinese demand is typically lower in the first two months of the year due to the Chinese New Year, we tend to see an inventory buildup at the beginning of the year. But inventory levels tend to come down by the middle of the year, as demand picks up.
We've seen declines in both LME and SHFE copper stocks over the past couple of weeks, and this has been one of the factors supporting copper prices (FCX) (GLNCY). Notably, rising copper inventories in May built negative sentiments in copper markets (BHP) (TECK). The increase in copper inventories looked worrisome, too, given the supply-side issues that hit copper earlier in the year.
Bonded stocks
While the official copper inventory has fallen, bonded copper stocks, which are held in free-trade zones in China, have risen over the past few months. The data haven't been released officially, but Bloomberg estimates them to have been at 630,000 metric tons at the end of April. Bonded copper stocks have risen this year and based on April data and are at the highest level since July 2015.
Meanwhile, most market observers expect copper markets to enter a deficit by 2020. Continue to the next part for a closer look at what's driving this optimism.