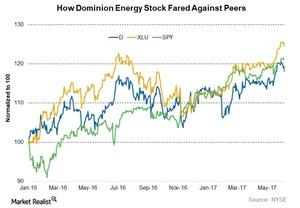 The Future of Dominion's Millstone Plant Is Now Uncertain
By Vineet Kulkarni

Updated
Dominion Energy
After Connecticut lawmakers rejected a bill that would have permitted the state to buy power from Dominion Energy's Millstone nuclear power plant, Dominion Energy (D) spokesperson stated: "We were disappointed that the house chose inaction…We will continue assessing investments in Connecticut."
According to a report from Reuters, industry analysts are guessing that Millstone could be one of the nuclear power plants in the Midwest and the Northeast that could close before their licenses expire. Weak natural gas prices have recently transformed the economics of US power producers, and utilities are increasingly seeking state support to make nuclear power generation economical.
Article continues below advertisement
Dominion stock at an all-time high
Dominion Energy, previously known as Dominion Resources, is Virginia's leading utility, valued at $50.6 billion, and the fourth-biggest utility by market capitalization in the US. So far this year, Dominion Energy stock has managed to soar more than 4%, though it has underperformed Utilities Select Sector SPDR ETF (XLU), with the latter rising more than 12% in the same period. Dominion stock is currently trading near its all-time high.
For many investors, Dominion Energy offers interesting proposition, considering its recently stable stock price movements and its dividend profile. Dominion's relatively higher earnings growth has facilitated one of the highest dividend growth stories we've seen in the past several years.