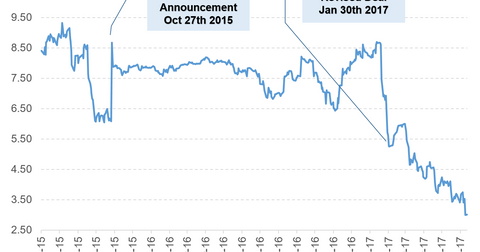 The FTC Might Be Looking to Block the WBA-RAD Merger
By Sonya Bells

Updated
The FTC and the WBA-RAD deal
According to a recent report from The Capital Forum, the FTC (Federal Trade Commission) is set to block the pending merger of Walgreens Boots Alliance (WBA) and Rite Aid (RAD). The FTC is concerned that Fred's (FRED) may not be a suitable replacement for Rite Aid in preserving competition in the pharmacy space.
Reports are that the FTC is preparing to file a lawsuit to block Walgreens from purchasing Rite Aid. The news sent Rite Aid's shares spiraling downward on Friday, June 9. The stock fell 15.0% and closed at $3. Rite Aid stock has lost 65.0% of its value since the proposed merger deal was announced.
However, Walgreens stock remained unfazed by the news and closed marginally down at $80.99.
Article continues below advertisement
What's stopping the deal from happening?
In October 2015, Walgreens proposed the acquisition of smaller rival Rite Aid. Since then, the two companies have been waiting for the approval of the FTC, which has been hesitant to give a green light to the merger. It believes the deal would give Walgreens too much pricing control and convert the pharmacy industry into a duopoly with only two major players: CVS Health (CVS) and Walgreens.
Walgreens operates around 8,200 stores, while CVS leads the US pharmacy segment with more than 9,600 stores. Rite Aid is the third-largest player with about 4,600 pharmacies.
What happened next?
In December 2016, in an effort to comply with the FTC's requests and calm its antitrust worries, Walgreens approached Fred's about selling it 865 Rite Aid stores. Later, that number was increased to 1,200.
In January 2017, the price of the acquisition was reduced to $6.50–$7 per share from the initial offer of $9 per share. The closing date was also extended.
ETF investors seeking to add exposure to Walgreens, Fred's, and Rite Aid can consider the SPDR S&P Retail ETF (XRT). XRT invests ~2.9% of its portfolio in the three companies.