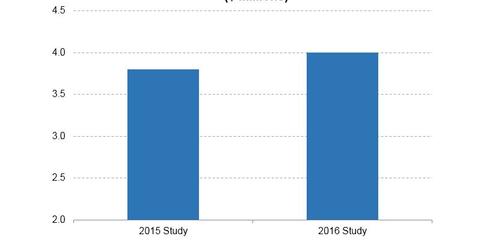 Symantec Takes Rival Zscaler to Court at a Crucial Juncture
By Ruchi Gupta

Updated
Trying to protect the bottom line
Symantec (SYMC) recently stepped up its legal battle against rival Zscaler by making seven more patent infringement claims against its competitor. Symantec had already sued Zscaler in the US (SPY) for violating its patents relating to web security, data loss prevention, and intrusion prevention, among others, all of which are crucial technologies in dealing with ransomware attacks such as WannaCry.
Article continues below advertisement
By taking Zscaler to court, Symantec notes that it has a responsibility to its customers and shareholders to protect its innovative technologies. The company makes significant investments in its innovations, which it hopes would differentiate it from the competition. As a result, its action against Zscaler is part of protecting its bottom line.
Hacking threats on the rise
Symantec (SYMC) is becoming more active in protecting its technologies at a time when the cybersecurity market expects to see increased spending as businesses move to secure their data. Not only are security threats on the rise, the cost of dealing with a hacking aftermath is also growing. 
IBM (IBM) recently estimated the average cost of dealing with a single hacking incident to be $4.0 million, up from $3.8 million in a prior estimate.
WannaCry clarifies Symantec's move against Zscaler
The wave of security threats created by ransomware cryptoworm WannaCry has created an opportunity for Symantec (SYMC). In the wave of the massive attack that affected systems in at least 150 countries, Symantec announced the preorder availability of its secure Wi-Fi router.
The recent WannaCry attacks also clarify why Symantec is pushing hard against alleged patent violators such as Zscaler. As the security market becomes more crowded, Symantec is working to stand out by blunting the competitive edge of competitors like Zscaler, FireEye (FEYE), and Check Point Software Technologies (CHKP).