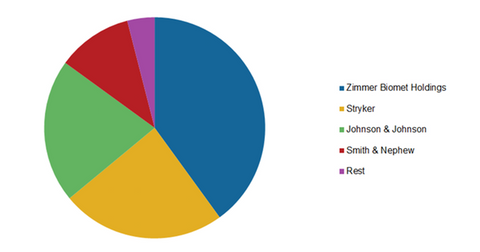 Stryker's MAKO Total Knee Implant: Robotics in Orthopedics
By Sarah Collins

Updated
MAKO total knee application launch
In March 2017, Stryker (SYK) announced the commercial launch of its robotic-arm-assisted total knee application to be used with its MAKO system. The combination of Stryker's well known Triathlon Total Knee System and MAKO robotic technology is expected to provide a highly successful surgical solution for total knee implant surgeries.
Stryker's Triathlon total knee system received FDA (U.S. Food & Drug Administration) approval in August 2015, and the company began a limited launch in June 2016. Since the limited launch, Stryker has worked on establishing optimized training protocols and sufficient training centers. The company trained 200 surgeons at 90 locations throughout 1Q17 and established 40 training sites.
Article continues below advertisement
Global opportunity
In 2017, other than the United States, Stryker expects Australia to be a large market for the MAKO total knee application since it has approval for total knee applications and has a healthy robot placement market. Europe also has approval for the MAKO total knee application, but in 2017, it won't be a major contributor to the company's sales.
Knee implant market share gain
Stryker is expected to gain significant knee market share driven by the demand of its MAKO total knee application. It expects to see an incremental market share gain attributable to the MAKO total knee application in 2018. Today, the company is the second-largest player in the knee implant market. Zimmer Biomet Holdings (ZBH) is the leading market player. Johnson & Johnson (JNJ) and Smith & Nephew (SNN) are the other big players in this market space. If you're interested in taking a diversified exposure to the potential growth opportunity of Stryker, you can invest in the Vanguard S&P 500 ETF (VOO), which holds ~0.21% of its total holdings in SYK.