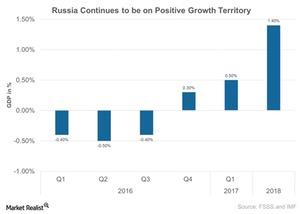 Russian 2017 GDP Is Still in Positive Territory
By Mary Sadler

Jun. 7 2017, Updated 3:55 p.m. ET
Russian economy
The Russian economy (ERUS) is back to positive growth after two years of recession mainly due to sanctions and lower oil prices. The recovery of oil prices since last year continues to support the Russian economy (RSX) in its recovery from negative growth in 1Q17. Russia continues to be affected by several economic sanctions by the Western world (SPY) (EWU) (VGK).
The recent slump in oil prices also seems to be affecting Russia's market performance. Increased oil supply expectations appear to be affecting market dynamics and thus impacting oil prices in 2017.
In the graph below, you can see Russia's GDP growth over the past year.
Article continues below advertisement
GDP growth in 1Q17
The Russian economy (RSX) grew 0.50% year-over-year in 1Q17 compared to 0.30% in 4Q16. Russian economic growth (ERUS) in 1Q17 remained above market expectations of 0.40%, according to preliminary estimates.
The primary driver for continued positive performance in 1Q17 is net external demand. Exports were at $83.8 billion, a massive rise of about 35.2% in 1Q17, making it the largest rise since 2011. Exports are mainly driven by fuel and energy products, chemicals, machinery and equipment, and food. Imports also rose 25.5% to $45.5 billion, primarily driven by machinery and equipment, chemical products, and food.
Expectations for 2017
Growth forecasts for Russia have been raised by the IMF (International Monetary Fund) for 2017 and 2018. Improved growth expectations reflect stronger economic activity mainly due to the oil price (USO) recovery in 2016. The recovery in oil prices (XOM) (CVX) (BP) is also expected to help reduce the likelihood of deflation globally (ACWI) in 2017. However, structural bottlenecks in Russia and the long-term effects of sanctions will continue to impact its level of investments in 2017.
The iShares MSCI Russia Capped (ERUS), which tracks Russian equities, has fallen about 13.0% so far in 2017 as of June 2, 2017.
In the next part of this series, we'll take a look at Russia's inflationary trend.