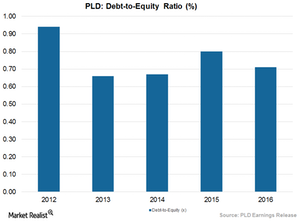 Prologis's Health by Leverage
By Jennifer Mathews

Jun. 21 2017, Updated 10:37 a.m. ET
Why is debt leverage important?
In order to qualify as an REIT (real estate investment trust), companies like Prologis (PLD) have to pay almost 90% of their taxable income as dividends. REITs fund their shareholder returns as well as working capital through debt financing.
To expand their businesses, REITs depend on mortgage and mortgage debts, but if an REIT depends too much on debt and keeps increasing its total debt, its interest cost can become unmanageable.
Article continues below advertisement
Debt-to-equity ratio
Prologis has been able to maintain a low DE (debt-to-equity) ratio over the past five years. The company reported a DE ratio of 0.75x in 1Q17, which ended on March 31, 2017. The industry median DE ratio is 1.07x.
Prologis's total-debt-to-total-equity was 70.8% in 1Q17. Major peers Duke Realty (DRE), Kilroy Realty (KRC), and Brandywine Realty Trust (BDN) have total-debt-to-total-equity ratios of 84%, 65.5%, and 107.9%, respectively.
The weighted average risk-free interest rate was 1.44% in 2016, 1.61% in 2015, and 1.64% in 2014.
Notably, Prologis, Duke Realty, Kilroy, and Boston Properties together make up 14.1% of the iShares Cohen & Steers REIT ETF (ICF).