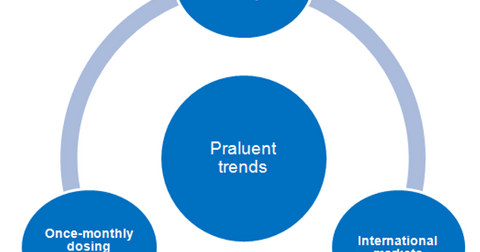 Regeneron's Praluent May See Gradual Increase in 2017 Demand
By Margaret Patrick

Updated
Praluent demand
In 1Q17, Regeneron Pharmaceuticals (REGN) and Sanofi's (SNY) Praluent reported global revenues close to $36.0 million, of which $25.0 million were earned from the US market. Despite the companies' success in imposing a stay on the U.S. District Court of Delaware's ruling imposing a permanent injunction on the sales of Praluent, the demand for the drug was negatively affected by the court's decision.
On April 25, 2017, the companies announced FDA (U.S. Food & Drug Administration) approval for a once-monthly dosing regimen for 300 mg (milligram) Praluent (alirocumab) injection to be administered to patients suffering from high low-density lipoprotein (or LDL) cholesterol.
If this regulatory approval manages to increase overall demand for Praluent in 2017, it may have a favorable impact on Regeneron stock as well as the stock of the Vanguard S&P 500 ETF (VOO). Regeneron makes up about 0.17% of VOO's total portfolio holdings.
Article continues below advertisement
In 2016, Praluent had revenues of around $116.0 million. It was also launched in the Japanese market in September 2016. Since the drug is now available in 45 countries around the world, Regeneron and Sanofi expect to benefit from the increasing adoption of PCSK9 (proprotein convertase subtilisin/kexin type 9) inhibitors in international markets.
The ODYSSEY OUTCOMES Study involving 18,000 patients is scheduled to conclude by the end of 2017. Positive outcome data from this study will further highlight the hypothesis that the PCSK9 inhibitor will lower LDL cholesterol and reduce overall cardiovascular risk.
Cardiovascular research program
Regeneron plans to initiate a Phase 3 trial to evaluate an investigational monoclonal antibody to angiopoietin-like protein 3 (or ANGPTL3) evinacumab as a treatment option for homozygous familial hypercholesterolemia (or HoFH) patients with hypercholesterolemia. The drug has secured breakthrough therapy designation from the FDA. In a Phase 2 proof-of-concept study, two subcutaneous injections of evinacumab reduced LDL cholesterol levels an average of 50.0% in patients who normally failed to respond to statin therapies offered by companies such as Pfizer (PFE) and Merck (MRK) and PCSK9 inhibitors.
In the next part, we'll look at the growth prospects for Regeneron's Dupixent.