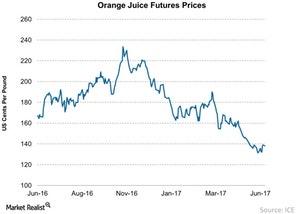 Is the OJ Contango as Bad as It Sounds?
By Adam Jones

Jun. 20 2017, Published 9:49 a.m. ET
Trading orange juice
Orange juice futures, or FCOJ-A futures, are traded in the US and considered a global benchmark for orange juice. (FCOJ-A stands for frozen concentrated orange juice, and the A stands for the grade given by the US Department of Agriculture.) These contracts are priced for physical delivery.
Article continues below advertisement
Weekly movements
Last week (ended June 16), FCOJ-A front-month futures in the US rose to $1.41 per pound from $1.39 per pound one week previously (ended June 9). FCOJ-A prices one year ago stood at $1.67 per pound—much higher than current levels.
The current price for FCOJ-A maturities in the future are in contango, with current prices much lower than levels in previous trading sessions.
Most oranges are grown in Brazil and Florida, but droughts, hurricanes, and extreme freezing can impact the price of orange juice contracts. While orange juice has been around for a long time, companies (XLP) such as Coca-Cola (KO) (COKE), PepsiCo (PEP), Dr Pepper Snapple (DPS) are now the main squeezes for orange juice on the consumer market. These companies would primarily enter the orange juice futures market to hedge exposure to rising orange juice prices in the future.