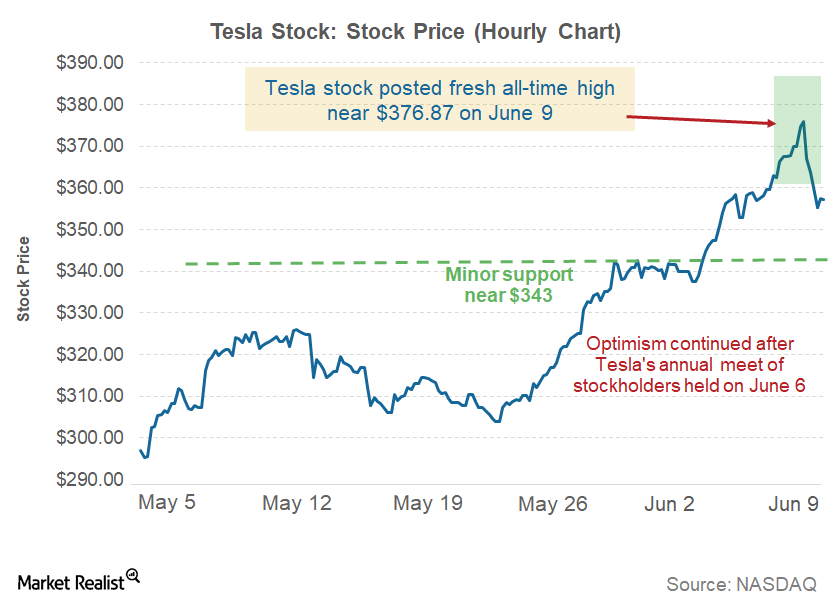 Key Drivers for Tesla Stock: Is the Sky the Limit?
By Jitendra Parashar

Nov. 20 2020, Updated 4:14 p.m. ET
Tesla stock
In the previous part of this series, we looked at some possible reasons for Fiat Chrysler's (FCAU) dismal Wall Street performance in 2Q17 so far. In the week ended June 9, Tesla stock (TSLA) continued to rise for the third consecutive week. The company's stock rose 5.1% to settle at $357.32 on Friday. In the second quarter so far, Tesla stock has risen about 28.4%, much higher than just the 2.9% gains witnessed in the S&P 500 (SPY) benchmark.
The company had a market cap of about $58.7 billion as of June 9. With this, Tesla has become the most valuable US auto company, surpassing the market caps of General Motors (GM) and Ford Motor Company (F).
Article continues below advertisement
Is the sky the limit?
In 2017, Tesla stock has stunned its critics with impressive year-to-date yields of 67.2%. Investors' high expectations from Tesla's upcoming Model 3 and the huge fan following of CEO Elon Musk could be some of the key reasons for these gains.
According to a report by the Guardian published last month, Elon Musk said that the company's "market cap is higher than we have any right to deserve."
On June 6, during Tesla's annual stockholder meeting, Musk gave an indication that Tesla's new crossover Model Y could be on the roads by 2019. The company expects Model Y to be more popular among auto buyers than Model 3.
Tesla is likely to begin initial production of Model 3 in July 2017. Timely deliveries of Model 3 could continue to drive optimism among investors about Tesla's potential to execute its long-term plans. However, in the short term, investors may eye Tesla's 2Q17 production and delivery figures. Any weakness in production and delivery growth rate could potentially reverse the short-term trend in Tesla stock.
Key support level for Tesla stock
The 14-day RSI (relative strength index) on Tesla's daily stock price chart is at 77.20, suggesting strength in momentum. On the downside, no key support lies above the $280 price level.
Visit our Autos page for previews of auto companies' 2Q17 earnings results.